Commercial Foundation Repair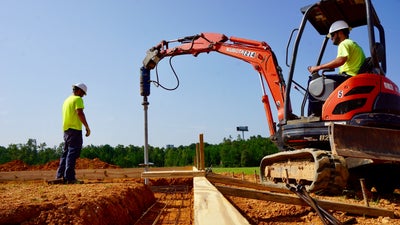 In the realm of commercial real estate, foundation issues like cracking, soil shifting, and water intrusion are more than mere inconveniences—they can negatively affect your operations.
Foundation Recovery Systems is the name you can trust for commercial foundation repair services. With more than three decades of specialized experience and certified technicians, we offer adaptable and high-quality repair solutions tailored to meet the specific needs of your commercial property.
Partnering with us ensures you get a resilient foundation, supported by our unparalleled industry know-how.
How We Approach Commercial Foundation Repair
Our mindset for commercial foundation repair involves a blend of cutting-edge technology, deep-seated experience, and an unwavering focus on quality.
Your journey with us starts with a comprehensive evaluation to pinpoint the precise challenges affecting your foundation. With this data, our team creates a customized plan aimed at remedying the issue while keeping disruptions to your business at a minimum.
We employ top-tier products like state-of-the-art pier systems and robust wall braces, each of which undergoes stringent testing for performance and longevity.
By partnering with Foundation Recovery Systems, you're investing in superior quality repairs that are both dependable and enduring.
What We Offer in Commercial Foundation Repair
Foundation Recovery Systems delivers a spectrum of services to adapt to the multifaceted requirements of our commercial clientele, such as: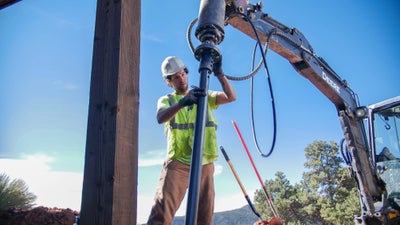 Helical Piers: Optimal for supporting lighter foundations and stopping additional settling.
Push Piers: Engineered for reinforcing weight-bearing foundations.
Slab Piers: Crafted to enhance the durability of concrete slab foundations.
Wall Strengthening & Repair: Our suite of repair options, like carbon fiber strips, steel I-beams, and wall anchors, offers fortification for compromised walls.
Specialized Solutions: Custom-designed repairs for any unique issues you might encounter.
Every service we offer adheres to rigorous industry benchmarks, ensuring you receive lasting, reliable results.
Reach out to Foundation Recovery Systems for a free inspection to find out more about our unparalleled services.
Signs Your Commercial Property Needs Foundation Repair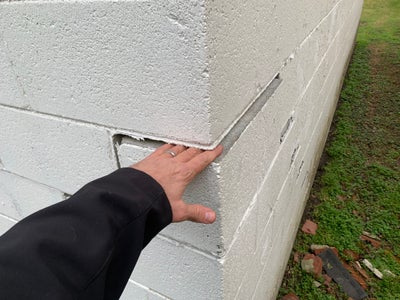 Spotting foundation problems early is crucial. Look out for:
Drywall cracks
Failing retaining walls
Ignoring these red flags could compound the problem and increase future repair costs. Timely consultation with a reputable foundation repair provider like Foundation Recovery Systems is key to halting further deterioration. 
Benefits of Choosing Foundation Recovery Systems for Your Commercial Foundation Repair
When you choose Foundation Recovery Systems, you'll benefit in these ways:
Swift Turnaround: Recognizing that time is capital, our efficient workflow reduces business downtime.
Skilled Proficiency: With over a decade in the commercial sector, our team brings unparalleled expertise in foundation assessment and repair.
Cost Efficiency: Our modular solutions not only resolve immediate concerns but also contribute to long-term financial sustainability.
Best-in-Class Products: Our selection of rigorously tested products meets or exceeds all industry benchmarks.
Permanent Stability: Our interventions offer definitive stabilization, countering recurrent issues like soil expansion or settlement.
Lasting Repairs: Our repair strategies are built to stand the test of time, some products supplemented by our life-of-structure warranty.
Minimal Business Interruption: Our skilled teams are trained to complete your project with negligible impact on your day-to-day operations.
We are more than a service provider—we are a partner committed to ensuring the structural integrity and longevity of your business facility.
Contact Foundation Recovery Systems for Your Commercial Foundation Repair Needs Today!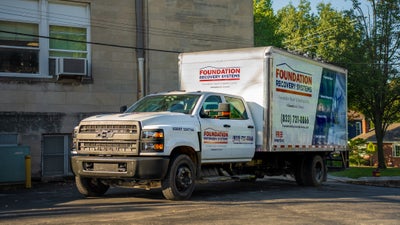 Minor foundation issues can snowball into significant liabilities. Never gamble with the security and lifespan of your commercial asset.
Get in touch with Foundation Recovery Systems for a no-obligation, free evaluation. We are committed to delivering adaptable, effective, and industry-leading solutions for commercial foundation repair.
Let us help set your business on a stable foundation!
FAQs
Yes, indeed, our products satisfy or surpass all applicable standards. Reach out to arrange your free inspection and estimate. 
Project timelines can fluctuate based on problem severity, scope of work, and material requirements. We collaborate with you to plan a swift yet comprehensive repair schedule, minimizing operational disruptions.
We offer commercial foundation repair solutions for various types of buildings, including retail locations, storage units, industrial complexes, hospitality establishments, residential blocks, and office spaces. Contact Foundation Recovery Systems to schedule your free inspection and explore our extensive commercial offerings. 
Publish Date:
Last Modified Date: