Cracked Driveway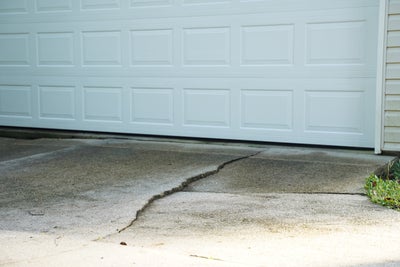 A cracked driveway is more than a minor inconvenience. While it detracts from your home's appeal, it's also a safety risk for family and guests. Whether you're concerned about potential trips, vehicle damage, or underlying foundation threats, Foundation Recovery Systems offers expertise in tackling these concerns with its cutting-edge concrete repair solutions.
Learn the root causes of driveway cracks and discover how our unique concrete lifting methods can repair your driveway's condition.
What Is a Cracked Driveway?
When your driveway starts to show cracks, seperations, or flaws, you're dealing with a cracked driveway. Ranging from barely noticeable hairline fractures to alarming broad gaps, these imperfections aren't only cosmetic concerns. They're an accident waiting to happen.
Observing these cracks might also hint at:
Cracked sidewalks
Deteriorating concrete patios
Unstable porches
Damaged pool decks
Don't delay in seeking professional help. Foundation Recovery Systems recommends professional inspection and repair services at the first signs of wear and tear.
What Causes Driveway Cracks?
There are several factors can lead to a cracked driveway:
Soil Issues: When the ground underneath fluctuates or erodes, uneven stresses can result in cracks.
Plant Interference: Nearby tree roots can exert pressure on the concrete, causing it to break.
Climate Conditions: Heavy rains weaken the underlying soil while freeze-thaw cycles magnify pre-existing cracks.
Temperature Changes: Concrete naturally responds to temperature shifts by expanding and contracting.
Installation Defects: A poorly executed concrete job enhances susceptibility to damage.
Vehicular Pressure: Constant vehicular usage, especially heavy vehicles, can test the concrete's endurance.
Such factors, if ignored, can even jeopardize your home's foundation. With Foundation Recovery Systems by your side, you'll have guidance to navigate these challenges effectively.
Can You Fix a Cracked Driveway?
Yes! But remember, the more extensive the crack, the fewer your repair options are. Acting early is key.
Traditional crack fillers or old-school mudjacking might offer a temporary solution. A permanent solution requires addressing underlying issues. With concrete lifting, Foundation Recovery Systems offers techniques to both lift and stabilize the failing soil beneath, promising a long-lasting repair.
How to Fix a Cracked Driveway
Here's how Foundation Recovery Systems repairs your driveway: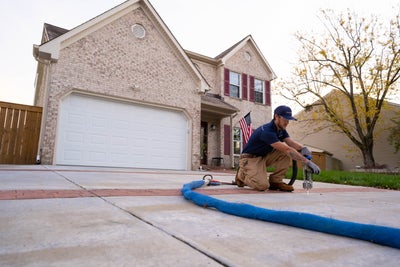 Complete an initial inspection, identify the cause, and determine appropriate repair solutions like SettleStop™ PolyRenewal™.
Drill small, penny-sized holes into affected driveway areas.
Place injection ports in the holes.
Mix together a two-part, closed-cell polymer foam.
Inject foam under driveway slabs.
The foam expands, filling any voids, and cures within 15 minutes.  
The slab lifts and the soil is stabilized.
Remove injection ports and fill and smooth the drilled holes.
Apply sealant to cracks and joints to prevent further damage.
Regularly maintain and monitor your concrete driveway.
Our proven specialized approach addressed the root cause, surpassing conventional methods. Our exclusive foam formula facilitates quick and exact concrete lifting, providing better longevity than traditional mudjacking and less disruption than total slab replacement.
Why Address Driveway Cracks Now
Prioritizing cracked driveway repairs is essential to:
Avert Worsening Damage: Addressing early prevents foundation concerns.
Safety Prioritization: Unattended cracks are hazardous, causing tripping or vehicle damage.
Home Value Enhancement: A pristine driveway amplifies your home's allure and market value.
Repair Costs: Early repairs curtail exorbitant future expenses.
For lasting solutions, rely on Foundation Recovery Systems and our state-of-the-art PolyRenewal™ system. Lift and level your driveway with our long-lasting system. Schedule a free inspection today.
Contact Foundation Recovery Systems for Reliable Concrete Lifting Solutions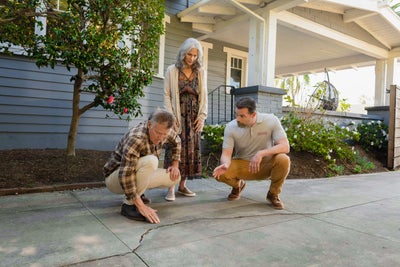 Your home deserves a level driveway. If driveway sinking issues plague you, let Foundation Recovery Systems' concrete experts help you. Book a free inspection and estimate now.
We understand the struggles homeowners face due to cracked driveways. Our mission is to simplify and expedite the repair process. Our cutting-edge tools guarantee sunken slabs are raised and stabilized for years to come.
FAQs
Shallow surface cracks might be aesthetic issues. However, deep or broad cracks can indicate deeper challenges and may result in compounded damage if ignored. 
Properly installed concrete driveways can last upwards of 20 years. However, some wear and tear is expected over time. 
With Foundation Recovery Systems' expertise, we can rejuvenate concrete driveways, increasing their lifespan using our innovative concrete lifting technique.
Ensuring effective water drainage, a sturdy base, and avoiding excessive load on the driveway can deter cracks. 
Publish Date:
Last Modified Date:
Explore more problem signs