Common Concrete Problems
Concrete is everywhere around your home—from your driveway and patio, to your pool deck and sidewalk. When a concrete slab cracks and sinks due to soil compaction or wash-out, it becomes an eyesore and a tripping hazard.
---
Are uneven or cracked concrete slabs causing problems in your home's patio, driveway, or sidewalk? Damaged concrete can ruin the appearance of your beautiful Midwestern home, and traditional solutions like mud jacking or complete replacement can be costly and time-consuming. But there's a better option: PolyRenewal™ concrete lifting from Foundation Recovery Systems.
---
Causes of Concrete Damage
Here's why your concrete slab is cracked, sunken, and uneven:
As a homeowner, you should be concerned about the concrete slabs on your street. During colder months, street slabs contract, and when warm weather returns, they expand. However, debris-filled joints can cause "street creep," which exerts pressure on your home and can cause foundation and concrete issues. But cracked and sunken concrete can be lifted and leveled with the right technology and know-how.
Moisture is concrete's enemy. It seeps into pores, expands during freeze-thaw cycles, and weakens concrete. This results in pitted, flaky slabs. Untreated concrete is also susceptible to staining due to its porous nature.
Compacted soil around building sites can be unstable, resulting in voids forming and concrete slabs settling over time.
Drought and dry conditions can exacerbate this issue, causing the soil to shrink and create even larger voids. When the rains return, water can seep into these spaces and further weaken the soil, leading to significant settling and potentially dangerous structural issues.
Soil washout can weaken and wash away soil, leading to cracking and sinking slabs that affect your home's stability. It also deteriorates soil quality, causing erosion to worsen exponentially over time and impacting your yard and property.
Award-Winning Service
Visit Company (Opens in New Tab)
Visit Company (Opens in New Tab)
Visit Company (Opens in New Tab)
Visit Company (Opens in New Tab)
Visit Company (Opens in New Tab)
Concrete Lifting Solutions
Improve your home's curb appeal and market value with our same-day concrete solutions. We don't offer temporary fixes but provide quick, clean, and permanent solutions you can trust. Browse our options below.
Why Concrete Lifting Is the Right Solution for Uneven Concrete
At Foundation Recovery Systems, we provide quick and effective concrete lifting solutions to restore your home's paths and entryways. Our financing plans make our services easily affordable to fit your budget. Our proven track record of customer satisfaction in Missouri, Iowa, Kansas, Arkansas, and Illinois demonstrates our commitment to fixing damaged concrete correctly the first time.
We understand the inconvenience and concern when confronted with tripping hazards and unsightly cracks. Our certified experts in concrete lifting will meticulously examine your property to identify the root of your concerns.
We pride ourselves on offering a complimentary, no-obligation quote outlining our suggested solutions. Begin the concrete lifting restoration process today.
FAQs
If you find yourself concerned about the cost of pool deck repair, you may be tempted to try and take on repairs on your own. After all, there are plenty of other DIY solutions you can do around your home, so why not this one? DIY pool deck repair solutions, unfortunately, rarely work out in a homeowner's favor. Instead, these endeavors can become costly and riddled with errors, meaning that you're actually going to end up paying more if you try to DIY the fix.
Concerns About Costs
Most of the time, homeowners who try to lift their concrete on their own are concerned about the cost of professional repairs. If you're already someone who enjoys DIY, you might know that certain DIY projects can save you lots of money — after all, making food at home is cheaper than eating out, so why wouldn't concrete lifting follow the same idea? The problem is that concrete lifting isn't at all like making food, and DIY work can actually cost a homeowner far more than professional help.
For starters, you'll need to find the materials and tools you need to bring your concrete back up to its original height. If you don't have any similar projects planned for the future, many of these tools may be of one-time use. Professionals already have many of the tools they need on hand to restore your pool deck. That means they can afford the hundreds of dollars in tools they need for pool deck lifting, whereas you probably can't. Similarly, experts can reach out to industry peers for materials they might need, garnering industry discounts you wouldn't be able to take advantage of.
The Dangers of Errors
Most of the time, DIY mistakes aren't that big of a deal. If you mess up a recipe, even to the point of complete disaster, you'll just mess up a couple dollars' worth of food and have to get takeout. Making a mistake while trying to lift your pool deck, however, can make the structure effectively unusable. For starters, you may end up leaving your pool deck more uneven than you found it, putting you and your family at risk of injuries. You may also put the other nearby concrete structures you have in place at structural risk.
Then there's the question of your property's value. If you fail to appropriately fix your pool deck, or if you make a mistake while trying to repair it, you can put your home's market value at risk. You risk losing up to 30 percent of your home's market value if you try to list it with a damaged pool deck or any other type of concrete failure on the property. That might not be a big problem now, but if you're ever going to sell your home, you could end up taking a big hit on it. If you work with professionals, you'll be far less likely to eventually sell a home that's lost some of its value due to damaged concrete.
Yes. PolyRenewal™ is made from an environmentally friendly material that is waterproof and won't degrade over time. This means it won't leach harmful chemicals into the surrounding soil.
PolyRenewal™  cures very quickly. In fact, you can drive your car over a driveway slab just 15 minutes after it's been lifted with PolyRenewal™ .
PolyRenewal™ is cost-effective because it offers a long-lasting solution that less expensive in the long run when compared to mudjacking and slab replacement.
Why You Need Concrete Lifting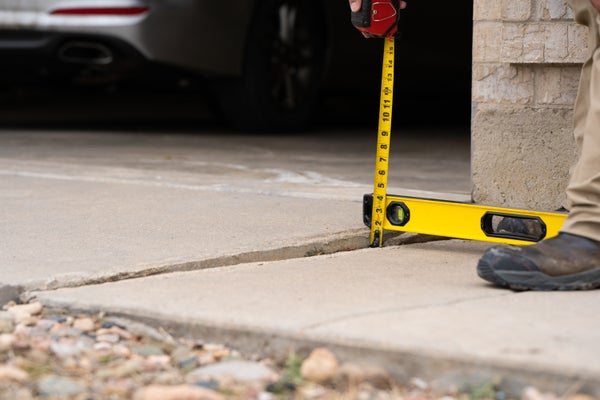 Improves Accessibility
The Consumer Product Safety Commission (CPSC) reports over 2 million annual fall injuries due to flooring. Lifting concrete eliminates tripping hazards and makes homes safer for visitors.
Prevents Pooling Water
Concrete lifting means no more puddles around your home. Uneven or cracked concrete is caused by soil that expands and contracts due to rainwater or snowmelt absorption. The soil fluctuation exerts pressure on the concrete and creates voids beneath it, making it sink or crack. These newly created voids lead to water pooling and soil movement below the concrete.
Improves Curb Appeal
Concrete lifting can do wonders for your home's appearance and put your mind at ease about cracks and puddles. And when it comes to selling your home, it's a definite plus since potential buyers won't have to worry about future repairs. At Foundation Recovery Systems, our transferable warranties ensure that the guarantee extends to buyers when you sell your home.
Common Concrete Lifting Dos & Don'ts
Do:
Opt for PolyRenewal™ Injections
PolyRenewal™ injections are a modern, non-invasive solution to concrete cracks and unevenness. Completed in an afternoon, installers drill penny-sized holes and inject polyurethane foam to lift and level your driveway or sidewalk, making it safer for your family.
Keep An Eye on Your Foundation
Concrete cracks can signal other issues like foundation cracks, basement leaks, and crawl space problems caused by soil issues. Our certified field inspectors inspect your entire home to locate the root cause of the problem and provide a comprehensive fix to prevent further structural issues.
Ensure Your Yard Is Positively Graded
Yard grading is crucial for maintaining the health of your foundation and concrete. A negative yard grade, where rainwater drains towards your home, can cause pooling, soil expansion, and concrete and foundation issues. A positive grade, where water drains away from your home, can prevent these problems and preserve the health of your home.
Don't:
Fall for Slab Replacement
Slab replacement is a bandage solution that fails to address the root cause of the problem: lack of soil support. Without fixing soil voids, cracks will reappear in your driveway, sidewalk, or patio.
Gutters play a vital role in protecting the health and functionality of your home. Allowing water to pool around your foundation and concrete accelerates soil expansion, leading to cracks and flooding. Regular gutter cleaning ensures proper water drainage and prevents these issues.
Mudjacking is an outdated and invasive concrete leveling method that is invasive and adds weight to your concrete. Polyurethane injections are a better option, as they won't require repeated procedures or add weight.