Wall Anchors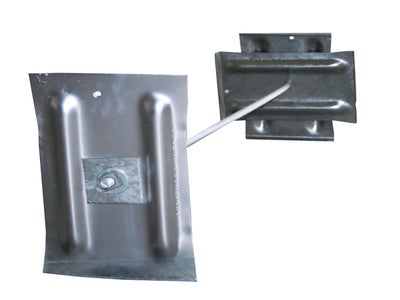 Is your basement starting to give you a scare, with creepy bending walls and ominous cracks?
All joking aside, these warning signs can spell big problems for your home's foundation.
A reliable wall anchor system is the solution for a stronger, stable foundation.
Discover how Foundation Recovery Systems' wall anchors can stabilize your foundation walls for decades to come. 
What are Wall Anchors?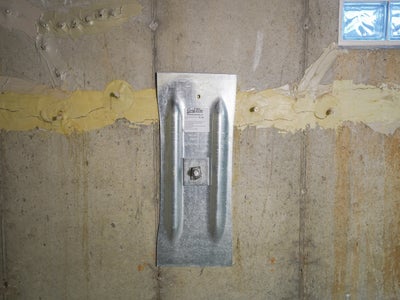 Wall anchors are the best solution for walls that are moderately to significantly damaged or are bowing inward two inches or more.
Wall anchor will permanently stabilize and help straighten the walls over time.
But what do they involve? An earth anchor is buried in the ground approximately 10-12 feet away from the wall, and it is connected to an interior wall plate by a galvanized steel rod. A bolt on the interior plate can be tightened by our technicians to help restore the walls.   
How to Know if You Need Wall Anchors 
Wondering if wall anchors are the solution for you?
Here are some clear indicators your home could benefit from wall anchors:
Knowing the signs can help you address these issues promptly with wall anchors to prevent further damage.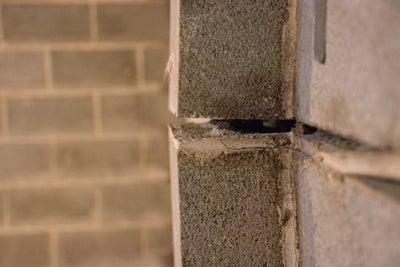 Is a Wall Anchor System Necessary?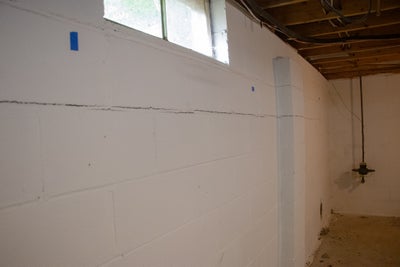 Certainly! A wall anchor system isn't an optional add-on—it's a fundamental necessity if you're experiencing signs of foundation instability like bowing walls or significant cracks.
Ignoring these warning signs can result in serious, even catastrophic, consequences.
Installing a wall anchor system offers a proven, effective way to halt these problems in their tracks, reinforcing your home against future risks. 
Benefits of FSM Wall Anchors 
Our tailored wall anchor systems come with multiple benefits:
Halt foundation wall movement and stabilize damaged walls
Stop the expansion of pre-existing cracks
Eliminate the need for a complete foundation overhaul
Comes with a transferable warranty
Our exclusive wall anchors also work in harmony with other solutions such as interior drainage and our IntelliBrace Wall System. 
Our Wall Anchor Installation Method 
Each home is unique, but a standard wall anchor installation involves these steps:
Planning the Site: Our expert teams determine the precise locations for wall anchors, backed by rigorous engineering.
Drilling Inside: We drill a 1-inch hole in the foundation wall as per the marked location. This hole will later be sealed against moisture.
Digging Outside: About 10-12 feet from the damaged wall, a hole is excavated. We carefully save all soil to minimize disruption.
Inserting Anchor Rods: We insert a durable, galvanized steel rod through the indoor hole into the exterior soil.
Installing External Earth Anchors: An earth anchor is placed in the excavated hole and connected to the steel rod.
Sealing: Multiple products are used to permanently seal the hole.
Affixing Internal Plate: A wall plate is installed and secured to the wall.
Tightening: Technicians adjust the wall anchor system to the appropriate torque level based on your wall type.
Landscape Restoration: Soil is backfilled into the hole and compacted to avoid future settling.
By adhering to this procedure, our specialists can halt additional foundation problems and even correct already leaning walls in some instances. 
Why Choose Foundation Recovery Systems' Wall Anchors? 
Trust our wall anchors for enduring protection against foundation weaknesses. Our local experts understand your area's unique soil and climatic conditions, ensuring your home remains stable and safe for years to come. 
Schedule your free inspection today!
FAQs
Typically, wall anchors require minimal maintenance. However, periodic inspections are advisable to make any necessary adjustments to the tightening bolt on the interior wall plate.  
Wall anchors are designed to be as unobtrusive as possible. The interior wall plate can often be painted or drywalled over to match your basement decor, making it less noticeable. The exterior earth anchor is buried underground, making it invisible from the surface.  
Definitely, our wall anchor systems are adaptable and can be used on a variety of foundation types like cinder block and poured concrete. Our professionals will evaluate your specific situation and recommend the most suitable approach for you. 
Publish Date:
Last Modified Date: