Helical Piers
A home is only as secure as its foundation. If your foundation is sinking or shifting, it's crucial to take corrective measures quickly.
Helical piers provide a permanent solution for supporting weak foundations and eliminating future damage. Helical piers serve as a formidable option to regain structural integrity and stop future damage.
At Foundation Recovery Systems, we specialize in high-quality foundation repair, which includes the expert installation of helical piers. Our client-centric approach is our signature trait.
Read on to discover the lasting impact helical piers can have on your home's foundation stability.
What Are Helical Piers?
Helical piers, sometimes termed helical piles or screw anchors, function as below-ground support systems. They divert a structure's load from weak soil strata to more stable ground or bedrock below. These piers not only stabilize but may also lift a sinking foundation.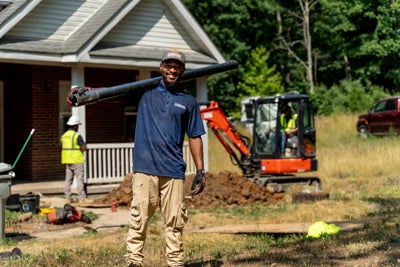 Made of heavy-duty steel, the shafts are equipped with helical flights resembling large screws, so piers can penetrate deep into the soil. This ensures exceptional load-bearing capacity.
Helical piers are a fundamental element in a home improvement plan, often accompanied by other essential services like waterproofing your basement or encapsulating crawl spaces.
Backed by innovative technology, helical piers deliver a support system designed to fortify your foundation for years to come.
Signs You Need Helical Piers
Signs that your home requires helical piers can include:
Ignoring these red flags could exacerbate the issue, eventually leading to costlier and more extensive repairs.
Contact a reputable foundation repair company like Foundation Recovery Systems to prevent additional damage.
Are Helical Piers Necessary?
If you notice any of the warning signs above, helical piers become a critical intervention. Delaying repairs can escalate underlying foundation issues and even expose your home to other risks, such as water intrusion.
Taking timely action to reinforce your foundation with helical piers is a cost-effective method that also protects your home from more severe harm.
At Foundation Recovery Systems, our approach to diagnosing foundation troubles allows us to provide customized solutions to your home's structural needs.
Though helical piers are extremely efficient, they may not be the best fit for all situations. Our range of solutions also includes other options like push piers and slab piers. We tailor our recommendations to your home's unique needs after a comprehensive, free inspection.
What Are the Benefits of Helical Piers?
Choosing our helical piers comes with various advantages, such as:
Permanent Stability: Our helical piers delve deep into the ground, assuring you of enduring support.
Immediate Reinforcement: Once installed by our accredited experts, helical piers immediately arrest any ongoing foundation shifts, minimizing future risks.
Potential for Realignment: In specific cases, helical piers can help return a settling foundation to its initial position.
Warranty Assurance: We stand by our helical piers with a lifetime warranty for complete peace of mind.
Integrated Solutions: Our helical piers seamlessly combine with our wider home improvement strategies.
Foundation Recovery Systems is dedicated to delivering unparalleled service and solutions, ensuring the best results for your home's foundation.
How We Install Helical Piers
The methodology behind installing our specialized helical piers requires expertise in the field of foundation repair.
Here's a snapshot of our process at Foundation Recovery Systems:
1. Thorough Assessment
Our professionals conduct an exhaustive inspection of your home to gauge the condition of your foundation and pinpoint optimal sites for helical pier insertion.
2. Soil Exposure
The team excavates the soil to expose the foundation's footing, preparing it for pier installation. 
3. Pier Installation
State-of-the-art hydraulic machinery is used to insert the helical piers into the soil, while monitoring for optimal torque settings.
4. Bracket Attachment
A heavy-duty steel bracket is secured to your home's foundation footing, linking it to the newly installed helical pier and transferring the structure's weight.
5. Lifting Operation
Our crew may attempt to elevate the sunken portions of the foundation using specialized lifting mechanisms.
6. Site Cleanup and Monitoring
Post-installation, we restore the site to near its original condition, removing all waste and debris. Markers are also installed over each pier location for future monitoring.
Trust Foundation Recovery Systems for exceptional helical pier services, and rest assured that your home is in proficient hands.
Why Our Helical Piers Are the Best Choice for Your Home
Our proprietary helical piers offer distinct advantages:
Versatility: Appropriate for both new constructions and pre-existing foundation concerns.
Swift Installation: Our skilled teams complete the installation promptly.
Optimal Load Bearing: Spaced strategically to enhance their weight-supporting properties.
Environmentally Friendly: Minimized soil disturbance and ecological footprint.
Year-Round Availability: Installation feasible in any season.
Contact Foundation Recovery Systems for Helical Piers Today!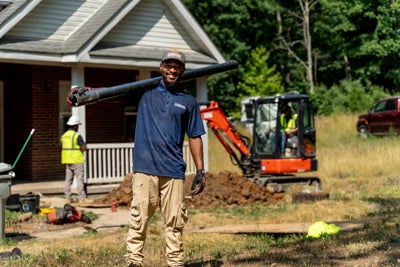 Don't procrastinate addressing your home's sinking foundation issues. The longer you wait, the more it will cost you in repairs.
Contact Foundation Recovery Systems now for a free inspection and quote.
Choose our helical piers to secure your home's foundation for the long haul and restore your peace of mind.
FAQs
Helical piers offer several advantages, such as quick installation, minimal soil disturbance, and immediate load-bearing capacity. They are also cost-effective and environmentally friendly. 
Yes, specialized equipment such as hydraulic torque motors are often used to install helical piers. 
The installation time for helical piers can vary depending on the scope of the project and the soil conditions, but it is generally quicker than traditional piling methods.