IntelliBrace™ Wall Repair System offers advanced solutions for damaged basement walls. With its innovative design and technology, it ensures your home's stability and security.
What Is the IntelliBrace™ Wall Repair System?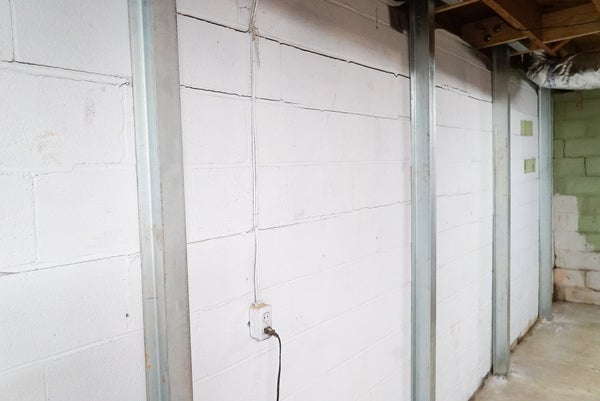 The IntelliBrace™ Wall Repair System is a patented innovation designed to stabilize failing basement walls.
Unlike standard I-beams, IntelliBrace™ beams are anchored to both the floor joists and the floor, providing maximum rigidity to the structure. These beams immediately secure the wall against further deterioration and allow for incremental adjustments.
By gradually tightening over time, the IntelliBrace™ System can guide bowed or tilted walls back to a straighter, more vertical position.
7 Signs You Need IntelliBrace™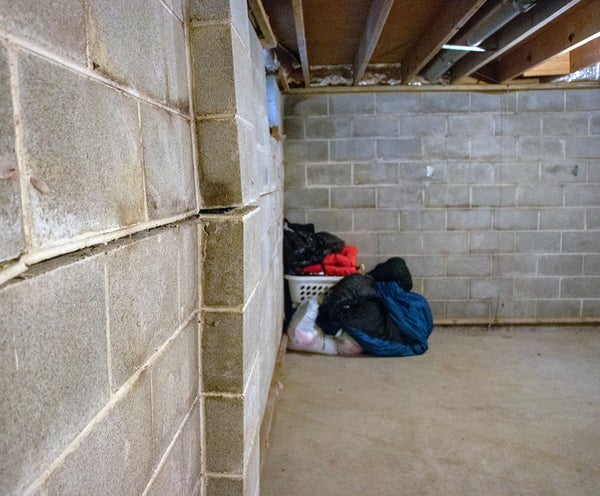 If you're experiencing issues with your basement walls, this could indicate that you need basement wall repair. However, there are other signs to look out for. For example, high humidity and mold growth may be an indication that water is coming in through unseen cracks.
Here is a list of key indicators to watch out for:
Is the IntelliBrace™ Wall Repair System Necessary?
If the walls in your basement are bowing, it's important to fix them right away. Waiting will only make things worse and increase the cost later on. We recommend using the IntelliBrace™ system as soon as you notice a problem. This solution is part of our complete approach to protecting your entire home.
With Foundation Recovery Systems, you get solutions tailored to your basement's needs. While IntelliBrace™ is often the best choice, we may recommend other products like wall anchors and carbon fiber straps. These options also offer excellent protection for your home.
In this case, we don't recommend doing DIY basement repairs. Solutions sold at hardware stores usually only cover up your issues, and they can even make them worse. For instance, simply sealing basement wall cracks yourself actually gives water a better footing to push against your wall and make the cracks even worse.
Feel free to contact our team for a free inspection and estimate with no obligation. We'll ensure that your home is protected according to its unique needs.
4 Major Benefits of the IntelliBrace™ Wall Repair System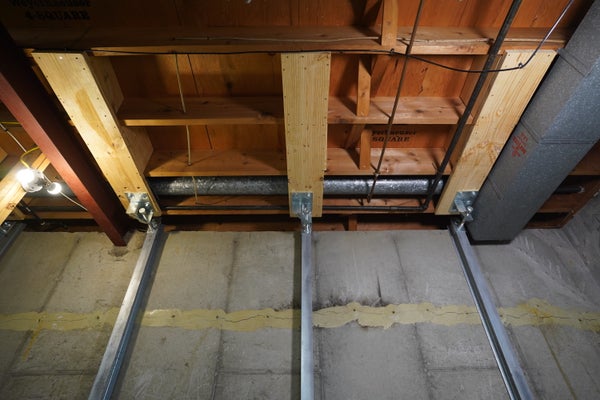 Easy Installation: The IntelliBrace™ system is installed in your basement, so you don't need to dig outside. It also takes up less space than traditional I-beams.
Strong Support: IntelliBrace™ beams offer better stability than traditional I-beams, securely holding your home's basement walls in place.
Wall Straightening: The system not only provides support but also allows homeowners to potentially straighten their walls over time, restoring structural integrity.
High Quality: Our unique product development ensures that homeowners receive the best solution available, superior to generic, big box store options.
Overall, the IntelliBrace™ system is a powerful and effective solution for addressing basement issues, ensuring long-term stability and safety while also addressing immediate structural problems.
How FRS Installs the IntelliBrace™ Wall Repair System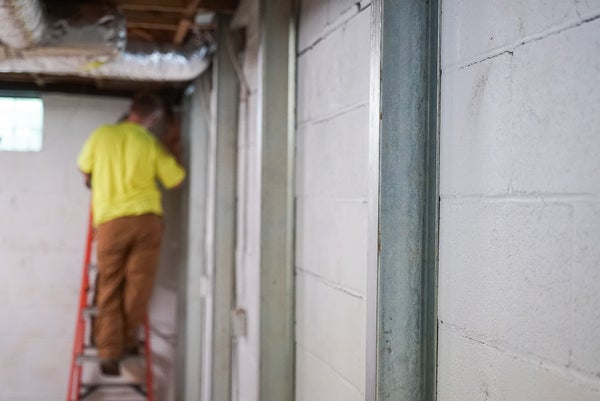 Step 1: Inspection
Our team will check your basement for damage. It's a free inspection, and you don't have to hire us. We'll see if we need to install beams, measure everything, and show you where to put them.
Step 2: Cut the Beams
We'll make a plan that fits your home. We'll measure how tall your walls are before we start. Then, we'll cut each beam to fit your basement. Doing this means we can finish the job faster and do it right the first time. You can count on us to pay attention to details and do a good job.
Step 3: Install Floor Joist Components
To put in an IntelliBrace™, we attach the top of each brace to a floor joist near the top of the wall using a thick bolt. We'll make sure your floor joists are strong enough before we start.
Step 4: Position the Beams
Our crew will use a level to make sure each I-beam is straight up and down.
Step 5: Anchor Beams to the Floor
We'll attach all the beams to your basement floor. We'll use a special bracket to do this. The IntelliBrace™ System goes all the way up the walls in your basement, which is different from how most other companies fix them.
Step 6: Tighten the Beams to the Wall
We'll use a special floor joist anchor with an adjustable bolt to stabilize the walls. We can do regular checkups to make sure everything stays in place and your home stays safe.
Why IntelliBrace™ Wall Repair System Is the Best Choice
The IntelliBrace™ Wall Repair System can fix bowing basement walls using strong materials that won't cause damage to your home or yard. We are able to repair walls that buckle or tilt in the center or slide inward from the bottom. In addition, we offer annual maintenance and flexible financing options to ensure that you are covered for the future at an affordable price.
Call FRS for Trusted Basement Wall Repair Today!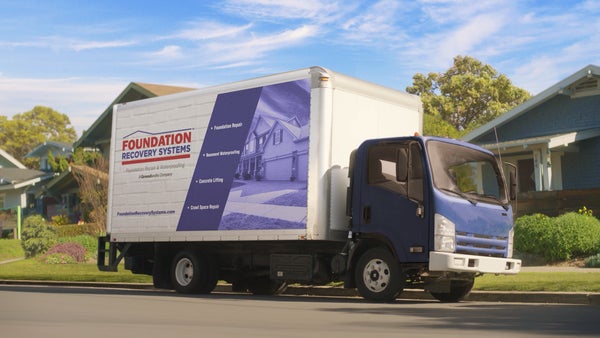 It's important not to delay repairs to your basement, as doing so could result in more serious issues and higher expenses in the future. At Foundation Recovery Systems, we're dedicated to ensuring the safety and security of your home. By choosing FRS for your basement repairs, you can avoid costly damage down the line and can count on efficient service from start to finish.
Choose Foundation Recovery Systems to protect your home. Book a free inspection today and take the first step towards securing the future of your home.
FAQs
IntelliBrace™ installation usually takes one to two days, but the duration can differ based on the extent of the damage and size of your basement. Our team will evaluate the damage and give you an estimated time frame for completion. 
Yes, IntelliBrace™ comes with a transferable warranty. We offer warranties on all our basement repair products, including IntelliBrace™. This warranty ensures that your investment is protected. 
Yes, it is safe to stay in your home during the installation process. Our installation team is highly experienced and takes all necessary precautions to ensure your safety and minimize disruptions to your daily life.