Cracked Pool Deck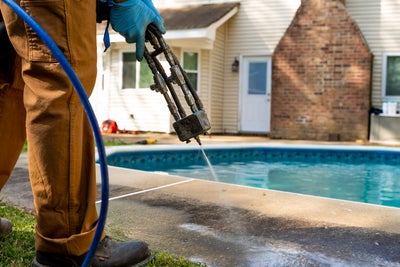 A swimming pool offers relaxation and fun, but any cracks in the surrounding concrete can become hazardous. Cracked pool decks are not just visually displeasing but also introduce serious threats.
Fortunately, Foundation Recovery Systems combines technology and more than three decades of experience to address concrete sinking issues for good.
Learn the causes of cracked pool decks and see how Foundation Recovery Systems uses SettleStop™ PolyRenewal™ to lift and level the concrete pool deck at your home.
What Is a Cracked Pool Deck? 
Cracks around an in-ground pool signal potential danger and diminished aesthetic appeal. They can range from shallow hairline cracks to more severe structural issues, potentially leading to tripping hazards, especially dangerous near water.
Unchecked, these cracks can invite unwanted water infiltration, accelerating the deterioration of concrete, and leading to mold growth.
Besides cracks, you might notice:
Uneven sidewalks
Concrete patio problems
Sunken porches
If you notice any of these symptoms the problems won't get better with time, only worse. Foundation Recovery Systems is equipped and ready to restore your pool deck to its former glory, eliminating dangerous tripping hazards.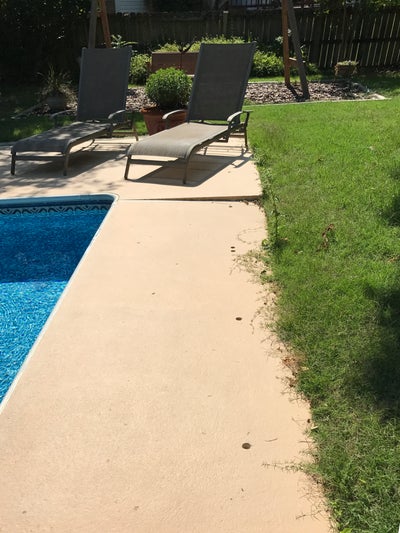 What Causes a Cracked Pool Deck? 
Your pool deck can crack due to various factors, such as:
Soil Instability: Improperly compacted or shifting soil beneath can lead to cracking.
Chemical Runoff: Pool chemicals can weaken the soil structure underneath, causing the deck to sag and break.
Tree Root Invasion: Aggressive tree roots can disrupt the ground, leading to uneven surfaces.
Excessive Moisture: Prolonged water exposure can erode supporting soil.
Seasonal Changes: Our harsh winter freezes followed by thaws place stress on the concrete.
Installation Mistakes: Flaws during concrete laying can result in weak structures.
Recognizing and addressing these early can prevent extensive damage to the deck and potential threats to the home's foundation.
Can You Fix a Cracked Pool Deck? 
Yes! But it's important to remember that patching cracks or applying superficial repairs is not enough. Traditional methods, like mudjacking, are disruptive and fail to address root causes.
Considering your entire property, we at Foundation Recovery Systems focus on addressing root causes, ensuring a long-lasting repair. Using our SettleStop™ PolyRenewal™ solution, we precisely lift and level compromised pool decks slabs for years to come.
How to Fix a Cracked Pool Deck 
Our specialized team at Foundation Recovery Systems takes a specialized approach:
Inspection: We evaluate the pool deck, identifying the root cause and proposing an effective remedy.
Drilling: Targeted, tiny holes, about the size of a penny, are made in the damaged areas.
Injection Points: Specialized ports are inserted for under-slab foam application.
Foam Preparation: Our unique PolyRenewal™ foam components are combined.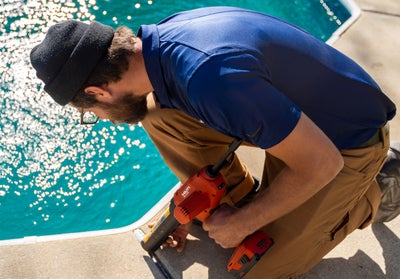 Application: The foam is introduced below the concrete, using the previously placed ports.
Expansion: Rapidly expanding, the foam fills voids, solidifying and lifting the concrete.
Final Touches: Post-application, ports are removed, and holes are sealed.
Crack Sealing: To prevent future damage, all cracks are sealed.
Regular Checks: Maintenance ensures the longevity of the repairs.
With Foundation Recovery Systems, you not only remedy visible cracks but also fortify the base, guaranteeing years of durability.
Why Address Pool Deck Cracks Now 
Acting right away to address pool deck crack issues ensures:
Durability: Ignored cracks can deepen, risking the structural integrity of your pool surround.
Safety: Addressing uneven surfaces reduces accident risks.
Economical: Early repairs are more affordable than extensive future repairs.
Property Value: Prompt solutions preserve your property's beauty and worth.
For unmatched solutions, rely on Foundation Recovery Systems. Our state-of-the-art techniques promise unparalleled precision and durability.
Reach Out to Foundation Recovery Systems for Dependable Concrete Pool Deck Solutions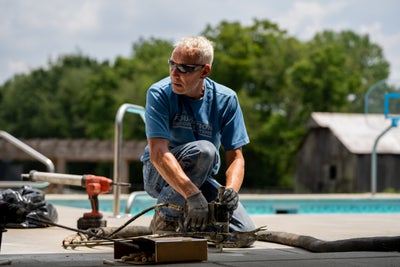 Don't let pool deck issues take away from the enjoyment of your pool. Foundation Recovery Systems offers solutions that stand the test of time. Schedule your free inspection and let us lift and level the sunken slabs.
For more than 30 years, homeowners have counted on our expertise for pool deck restoration. Experience our top-notch service and the power of PolyRenewal™.
FAQs
Yes, if water consistently pools on the deck or if there are drainage issues, the water can penetrate, causing erosion, freeze-thaw damage in colder climates, and eventual cracking.
Yes! PolyRenewal™ is designed for effective slab repairs without adverse environmental impacts. It's water-resistant and ensures the surrounding soil remains uncontaminated. 
Our methods allow for repairs without emptying the pool, ensuring limited disruption. We prioritize your property's well-being, making sure your pool and its surroundings are undisturbed. 
Publish Date:
Last Modified Date:
Explore more problem signs