Collapsing Retaining Wall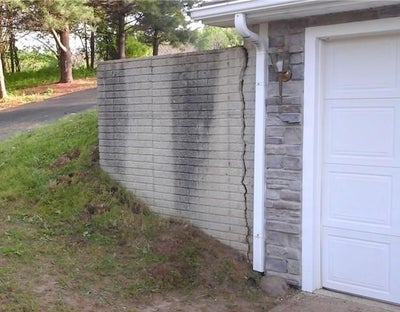 Your retaining wall isn't merely a decorative landscape feature; it plays an essential part in upholding your property's structural foundation.
Should your retaining wall display signs of wear or collapse, it becomes not only an eyesore but also a significant safety risk that could adversely affect your property's market value.
Foundation Recovery Systems has been safeguarding and restoring homes across the region for more than three decades. We focus on ensuring the well-being of your home through expert, long-lasting repairs aimed at fortifying your collapsing retaining wall.
By the end of this article, you will be equipped with the knowledge to identify causes of retaining wall damage and the steps for effective professional repair.
What Is a Collapsing Retaining Wall?
A collapsing retaining wall has weakened to the point where it can no longer maintain the earth and other materials it was engineered to contain.
Signs of this weakening may appear as:
Cracks
Slanting or tilting
Collapse and failure
Not only can these problems cause soil to shift and erode, but they can also adversely affect neighboring basement or foundation walls, destabilizing your property's overall foundation.
Retaining walls are built to resist the lateral forces exerted by soil, thereby making sloped areas functional for terraces, driveways, or gardens. When these walls fail, they compromise the even ground they were designed to protect and present substantial safety risks.
What Causes a Retaining Wall to Collapse?
Various factors contribute to a collapsing retaining wall:
Poor Construction: The use of subpar materials, flawed design, and inadequate foundational support can hasten a wall's collapse.
Hydrostatic Pressure: Over time, the lateral force of swelling soil can outmatch the wall's resistance.
Water Build-up: Inadequate drainage could lead to water gathering behind the wall, exacerbating pressure.
Soil Deterioration: Erosion at the wall's base can negatively affect its stability.
Invasive Plant Roots: Expanding tree roots can displace the soil and potentially breach the wall.
Material Aging: The natural degradation of materials over time lessens their capacity to bear loads.
Recognizing the underlying issue is essential for the effective, long-term stabilization of your retaining wall. Foundation Recovery Systems offers a free, exhaustive inspection to identify these issues and suggest an appropriate repair strategy.
Can You Fix a Collapsing Retaining Wall?
Absolutely. Walls displaying significant tilting or cracking can be restored and fortified to prevent future deterioration.However, it's important to remember that temporary fixes like adding soil or sealing cracks with concrete are not durable solutions.
To securely stabilize and possibly realign a failing retaining wall, a comprehensive approach is necessary. This involves reinforcing the wall foundation, improving drainage, and strengthening the wall structure. Foundation Recovery Systems delivers such comprehensive, guaranteed solutions for your collapsing retaining wall.
How to Fix a Collapsing Retaining Wall
At Foundation Recovery Systems, we recognize that every home presents unique challenges and requires custom repair strategies. Here's a rundown of our general approach to dealing with collapsing retaining walls:
Initial Inspection
Our specialized team performs a no-cost inspection of your home and the problematic retaining wall. Based on our analysis of the underlying cause, we recommend appropriate repairs suited to your budget and requirements.
Wall Stabilization
We utilize robust wall anchors to permanently fortify the wall, halt any further movement, and potentially enhance its condition. The installation process is outlined below:
Digging several feet away from the retaining wall
Drilling a hole in the retaining wall
Advancing a connecting rod through the hole
Embedding an earth anchor plate in the excavated area
Attaching the rod and earth anchor plate
Placing a wall plate on the retaining wall
Connecting the wall plate and rod
Backfilling excavated dirt
Tightening the wall plate and rod for potential wall improvement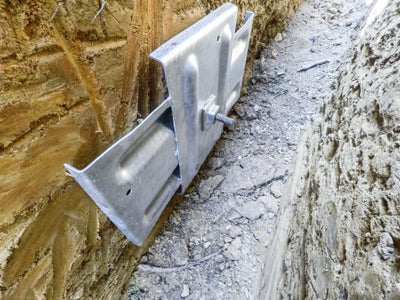 Drainage Enhancement
A functioning and well-maintained drainage system, such as gutters and downspouts are essential. These mechanisms redirect excess water away from your property and structures like retaining walls.
Foundation Recovery Systems offers custom solutions using products superior to generic alternatives. Our methods ensure lasting, effective outcomes.
Why Address a Collapsing Retaining Wall Now
Addressing a deteriorating wall quickly is crucial for several reasons:
Continued neglect can lead to disastrous collapse and costly property damage.
Walls that tilt are not only eyesores but also significant safety hazards.
Poor drainage due to a compromised wall could lead to flooding.
Adjacent landscaping, patios, or buildings may become insecure.
Adjoining foundation and basement walls may also become compromised.
Delayed action increases complexity and repair costs.
A deteriorating wall can substantially affect your property's value.
Don't compromise on temporary aesthetic fixes. Foundation Recovery System's whole home repair methods keep your property secure and functional, supported by a long-term warranty that ensures workmanship quality.
Contact Foundation Recovery Systems for Permanent Wall Stabilization Solutions
Reach out to Foundation Recovery Systems for a free inspection if you notice any cracking, leaning, or shifting in your retaining walls made of concrete, block, or brick. Our seasoned experts will assess the damage and customize an enduring solution.
With a wealth of experience in restoring failing retaining walls, we can be trusted to restore your property's structural integrity. Our focus is on ensuring your peace of mind with our long-lasting warranty.
Connect with us today for expert advice and solutions.
Collapsing Retaining Wall FAQs
Yes, poor drainage is one of the most common causes of retaining wall failure. Water accumulation behind the wall increases pressure, which can lead to cracks, bulges, and eventual failure. 
For diagnosing and repairing a failing retaining wall, it's best to consult with experienced foundation experts who specialize in retaining walls or foundations. 
The duration of repairs can differ but are generally completed within a week's time. During the free inspection, our inspector will outline project details, including an estimated timeframe.