Foundation Settlement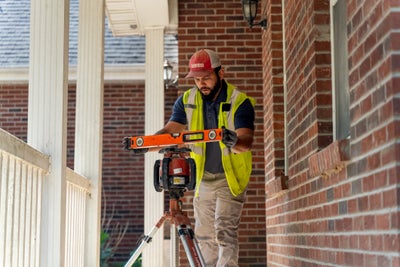 Foundation settlement is a critical issue that poses a threat to the structural integrity of your home, necessitating prompt expert attention.
From the start, Foundation Recovery Systems has been a leader in providing top-notch foundation repair services. Our team of experienced professionals pinpoints the root causes of foundation settlement and uses proven techniques to not only stabilize but, where feasible, lift your home's foundation to close any existing gaps.
Allow us to help you navigate the intricacies of foundation settlement so you can make informed decisions for your home's safety.
What Is Foundation Settlement?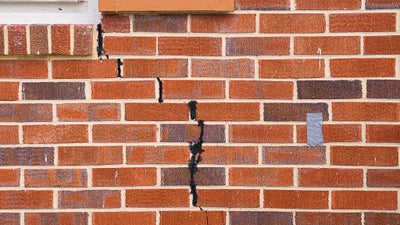 Foundation settlement happens when a home's foundation sinks into the ground below it, typically when the soil can no longer support the weight of the structure.
The settling can occur gradually over many years or happen suddenly due to events like heavy rainfall or prolonged dry spells. As the foundation shifts, symptoms like wall cracks, sticking doors and windows, and uneven floors may appear.
At Foundation Recovery Systems, we provide an array of repair options designed to permanently stabilize a sinking foundation. Whether it's push piers, helical piers, or slab piers, we focus on stabilizing your home's foundation to stop future settlement.
What Causes Foundation Settlement?
Multiple factors contribute to foundation settlement:
Soil Shrinkage: Prolonged dry periods make the clay soil, prevalent in our region, contract, forming voids that induce settlement. Large trees nearby can aggravate this by drawing soil moisture.
Soil Expansion: Wet conditions cause clay soil to expand, putting pressure on foundation walls. When the soil dries out, it shrinks again, leaving gaps that contribute to settling.
Poor Soil Compaction: Sometimes, the soil used during construction wasn't adequately compacted. Over the years, the weight of the structure further compresses this loose soil.
Soil Erosion: Poor drainage and clogged gutters can hasten soil erosion, undermining the foundation's supporting structure.
Can You Fix Foundation Settlement?
Yes, resolving foundation settlement is possible! The goal is to transfer the weight of your home to piers driven into more stable soil or bedrock deep underground.
In most cases, complete foundation replacement is unnecessary. There are simpler, less invasive, and more effective solutions, and Foundation Recovery Systems is your ideal partner for these services.
How to Fix Foundation Settlement
Foundation Recovery Systems deploys advanced repair technologies for addressing foundation settlement:
Push Piers: These steel piers are mechanically driven deep and securely attach to your foundation's footings.
Helical Piers: Screwed into the ground beneath your foundation, these steel piers anchor your home in stable soil.
Slab Piers: These are specifically used for homes with slab foundations, reinforcing and possibly elevating settled concrete slabs.
Our full range of steel foundation piers not only stabilizes your home but may also lift the foundation back to its original position, sealing cracks and re-aligning doors and windows.
Why Address Foundation Settlement Now?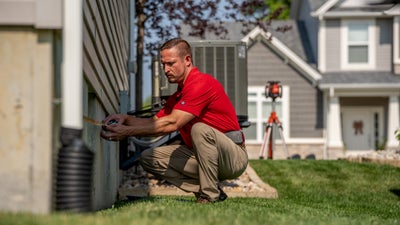 Delaying foundation repairs isn't wise for several reasons:
Avoid Worsening Damage: Over time, settlement problems escalate, resulting in costly repairs.
Reduce Safety Hazards: Excessive settlement can lead to unstable walls and floors that tilt.
Protect Your Investment: Prompt repairs can restore your property's value.
Secure Peace of Mind: Our resilient solutions ensure enduring stability for your home.
For a lasting solution to your foundation settlement problems, Foundation Recovery Systems offers specialized repair products and a team of trained technicians. Schedule your complimentary inspection and receive a repair estimate today!
Contact Foundation Recovery Systems for Foundation Settlement Solutions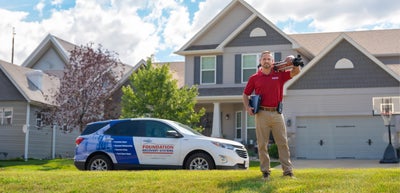 Don't delay in addressing your foundation settlement issues; act now before the problem gets worse.
Our team of highly qualified inspectors at Foundation Recovery Systems are prepared to evaluate your home's foundation and recommend strong, long-lasting repair solutions.
We proudly offer no-obligation, free inspections.
Contact us today to take the initial step toward ensuring a more stable and secure home.
Foundation Settlement FAQs
Some preventive measures include proper drainage around your home, avoiding planting large trees close to the foundation, and ensuring the soil beneath the foundation is properly compacted before construction.  
Prices vary depending on the extent of the damage and the selected repair options. Foundation Recovery Systems provides free, no-commitment inspections and flexible financing options to fit your budget. 
Minor settling is usually not hazardous. However, substantial or uneven settling could lead to structural complications that might render the home unsafe until proper repairs are carried out. 
Publish Date:
Last Modified Date:
Explore more problem signs