Sticking Doors and Windows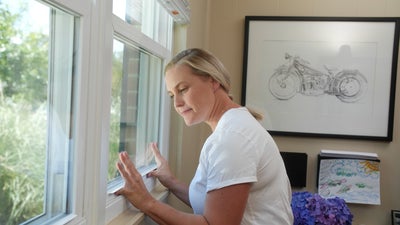 Do you find it increasingly challenging to open or close the doors and windows in your home? This problem often goes beyond mere inconvenience, pointing toward underlying structural concerns like foundation issues.
Foundation Recovery Systems has been a reliable leader in foundation repair services for more than three decades across the region. We can help you to identify the underlying issues and offer effective solutions.
If you're experiencing sticking doors and windows, don't hesitate to get in touch with us!
What Are Sticking Doors and Windows?
When you find yourself applying extra force to open or close doors and windows, or if they won't close all the way, you're dealing with "sticking." Such occurrences often coincide with doors that don't fit perfectly within their frames.
These symptoms are usually indicative of underlying structural issues in your home. Signs such as warped or distorted frames around doors and windows, or visible drywall cracks near them, are strong indicators that foundation issues are at play.
Often, the primary cause is a settling foundation, which, if not promptly addressed, can lead to more severe structural damage.
What Causes Sticking Doors and Windows?
A range of factors can be responsible for doors and windows that don't operate smoothly:
Foundation Movement – The irregular settling of a home's foundation can result in uneven floors and walls, causing your doors and windows to jam.
Moisture Build-up – Excess moisture can cause door and window frames to deform, leading to sticking.
Paint Accumulation: Over time, layers of paint can collect on the edges and in the jambs of doors and windows, forming a barrier that restricts their free movement.
Hardware Wear and Tear: Elements such as screws, hinges, and locks may degrade or become loose as time passes, leading to a misalignment that can cause sticking.
Issues like improper soil preparation, poor drainage systems, and naturally occurring soil shifts can also contribute to sticking doors and windows due to foundation-related challenges.
Can You Fix Sticking Doors and Windows?
Absolutely! Addressing sticking doors and windows requires more than just treating the symptoms—it's about getting to the heart of the problem.
This usually means tackling underlying structural and foundational issues that are often the real culprits behind these annoyances.
At FRS, specialized foundation repair methods are our forte, and we utilize a multi-step approach to ensure that the issue is resolved.
How Foundation Recovery Systems Resolves Sticking Doors and Windows
To resolve sticking issues, we focus on restoring and potentially elevating your home's foundation to its correct alignment.
We accomplish this by:
Why Address Sticking Doors and Windows Issues Now?
Taking immediate action for sticking doors and windows is essential for several reasons:
Neglecting the problem exacerbates underlying foundation defects.
Ongoing issues can result in further damage to door and window frames.
Allowing the foundation to continue settling can lead to more acute structural concerns.
Delaying repairs often leads to more expensive fixes down the road.
Temporary, superficial solutions can worsen the problem over time.
Foundation Recovery Systems provides enduring, engineered solutions to effectively resolve these issues.
Contact Foundation Recovery Systems for Sticking Doors and Windows Solutions
Choosing Foundation Recovery Systems for your sticking windows and doors repairs is an excellent decision.
With more than 30 years of industry experience, Foundation Recovery Systems has built a proven track record of accurately diagnosing and effectively solving issues related to door and window functionality.
Their extensive experience assures you that they are well-equipped to tackle a wide variety of challenges, offering tailored solutions that last.
Foundation Recovery Systems offers transferable warranties that not only give you peace of mind but also increase the value of your property by offering the same assurance to future owners.
For all these reasons, Foundation Recovery Systems stands out as the ideal choice for homeowners seeking to resolve issues with sticking doors and windows.
Schedule your free estimate today!
FAQs
A settling or shifting foundation can disturb the alignment of walls and floors, leading to frame distortions for doors and windows, making them hard to operate.
Although excessive moisture can cause minor sticking, serious sticking issues are more likely indicative of structural flaws.
While they can serve as warning signs, sticking doors and windows alone aren't conclusive evidence of foundation damage. Look for additional signs, like wall cracks or uneven flooring, to substantiate foundation issues.
Publish Date:
Last Modified Date:
Explore more problem signs