Basement Wall Shearing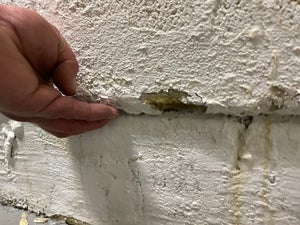 Are your basement walls playing a slow-motion game of 'lean and slide'?
If so, you have a ticking time bomb that could compromise the structural integrity of your entire home.
But don't panic just yet. Foundation Recovery Systems has the expertise to defuse the situation, ensuring your home stays as solid as the day you fell in love with it.
This page will provide insight into what's causing this unsettling shift and how we can make it right.
What Is Wall Shearing in Basements? 
Wall shearing in basements refers to the sideways movement of your walls. It's often caused by outside forces. The amount of soil, its moisture content, and its ability to expand or contract are key contributors to this issue.
Although wall shearing isn't a sign of immediate disaster, taking quick steps to address it is crucial to prevent further deterioration and potential water issues.
The specific condition and location of the wall shearing will help experts decide on the best repair strategy.
Foundation Recovery Systems offers free inspections that consider all facets of the problem to recommend the most effective remedies.
What Causes Basement Wall Shearing? 
Multiple factors can cause wall shearing. During our inspections, we'll help you identify these factors, making them easier to catch in the future.
Changing Soil Volumes 
The soil around your basement fluctuates in size because of moisture levels. Wet and dry spells create soil movement, which in turn can lead to wall shearing.
Water Pressure Under the Ground 
Heavy rain can create underground water accumulation, which exerts force against your basement walls—known as hydrostatic pressure.
Frost Heave Effects 
Cold conditions can make water in the soil freeze, generating an upward force known as frost heave. This force can also contribute to wall shearing.
Is It Possible to Fix Wall Shearing? 
Yes! Today's foundation repair technology enables us to address wall shearing without having to rebuild your entire basement. Expert action can fortify the problem areas and prevent future complications.
Foundation Recovery Systems utilizes a variety of techniques to effectively combat wall shearing.
Our Strategy for Managing Wall Shearing 
We've earned the trust of countless homeowners through our meticulous approach focused on accuracy and reliability. Here's our process:
1. Detailed Analysis 
Our team carefully examines the severity and location of the problems, enabling us to focus on root causes like hydrostatic pressure, soil changes, and frost heave.
2. Implementing Reinforcement Techniques 
We reinforce areas vulnerable to wall shearing with the right solutions, such as: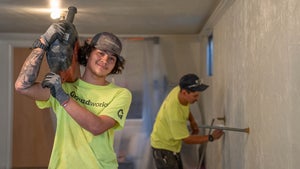 3. Moisture Control 
To manage moisture, we integrate waterproofing into the solution. Products like internal drainage systems, dehumidifiers, and vapor barriers may be needed. Our sump pumps efficiently divert water away, safeguarding your foundation.
Why Act on Wall Shearing Now? 
Delaying repairs can aggravate wall shearing, leading to more expensive remedies later.
Quick action allows you to:
Avoid serious structural complications
Reduce the risk of water damage and potential mold growth
Lower chances of uneven floors or weakened supports
Save money by preventing extensive damage and water-related issues
By choosing Foundation Recovery Systems, you'll receive comprehensive solutions that don't just patch the problem but fortify your basement against future issues.
Consult Foundation Recovery Systems for Dependable Wall Shearing Solutions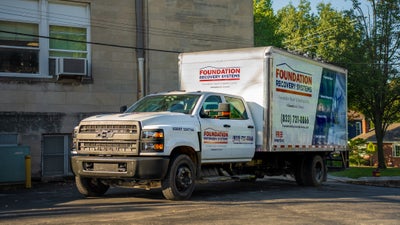 If signs of wall shearing are visible in your basement, quick intervention is crucial to avoid structural risks and expensive fixes.
At Foundation Recovery Systems, we specialize in cutting-edge techniques to solve wall shearing while delivering exceptional customer service.
We're not merely fixing a symptom; we're offering you peace of mind.
Schedule your free inspection today! 
FAQs
Attempting a DIY fix for a serious issue like wall shearing could compromise your home's structural stability. Professional guidance is important for an accurate diagnosis and effective repair.
Yes, fixing foundation issues like wall shearing can make your property more appealing to buyers. It assures them of the structural safety of the house and could thereby enhance its market value.
Most standard home insurance doesn't cover damage from soil movement, which includes wall shearing. However, some policies might offer specific coverage for foundational issues, so check with your insurer for the details.
Publish Date:
Last Modified Date:
Explore more problem signs