Basement Wall Cracks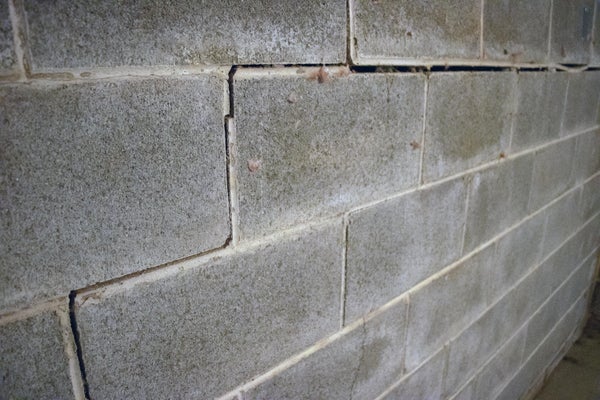 Is your basement marked by unsettling cracks? These might be more than just cosmetic blemishes; they could be an SOS from your home's foundation. If you're a homeowner in Missouri or parts of Kansas, Illinois, Arkansas, and Iowa, FRS has the expertise to help you diagnose and resolve these issues before they escalate.
We're dedicated to identifying the underlying cause of your basement wall cracks and offering tried-and-true remedies for lasting repairs.
What is a Basement Wall Crack?
The term "basement wall crack" is not just about a simple break or a cosmetic flaw in your basement's perimeter walls. While not every crack spells disaster, it's important to take them seriously.
Factors like the crack's appearance, size, and specific location offer clues about the severity of the problem and the kind of treatment required.
Our expert team goes beyond superficial examinations, providing you with a comprehensive evaluation to guide our repair strategies.
What Causes Basement Wall Cracks?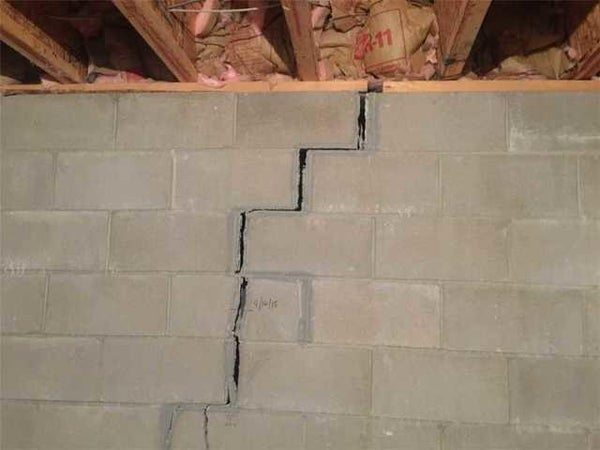 Understanding the contributing factors to basement wall cracks allows you to better grasp how to fix and prevent them.
FRS takes an educational approach during inspections. We focus on finding the root cause behind these disconcerting cracks, giving you the knowledge you need to act.
Let's review some potential reasons for basement wall cracks:
The Soil
Contrary to common belief, the soil supporting your home isn't static. Variations in moisture levels, resulting from conditions like heavy rainfall or drought, can trigger soil movement. Such shifts weaken the ground's supporting capability, which can manifest as basement wall cracks. An expert eye is often necessary in such cases.
Water Pressure
Rainfall and snowmelt cause underground water accumulation that can exert an unnoticed but potent force against your basement walls. This phenomenon, known as hydrostatic pressure, can significantly stress your walls, leading to cracking or inward bowing.
Temperature Fluctuations
Living here, you know the weather can swing wildly with the seasons—even from day to day. These swings in temperature cause your home's foundation to undergo cycles of expansion and contraction, often resulting in wall cracks over time.
Root Intrusion
As innocent as they may seem, tree roots can aggressively stretch out in search of nutrients and water, exerting considerable force on your basement walls. Especially if the trees are close to your home, this force can lead to cracking or even more alarming structural issues.
Can Cracked Basement Walls Really Be Repaired Effectively?
Yes! Fixing cracks in your basement walls isn't just feasible; it's vital for safeguarding your home's structural integrity.
Repairing wall cracks is a nuanced task, best entrusted to professionals with a proven track record. FRS has been a reliable partner for homeowners across multiple states for more than three decades.
We don't just offer temporary fixes; we provide long-lasting solutions tailored to the specific conditions affecting your home.
Our Tailored Solutions for Basement Wall Crack Repair
Intellibrace Wall Braces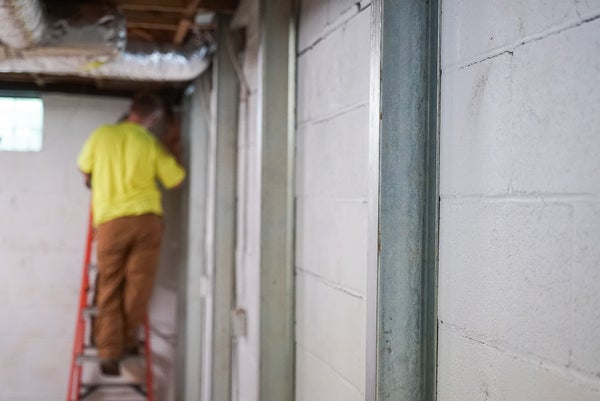 For walls that exhibit significant bowing due to external pressures like soil movement or hydrostatic forces, Intellibrace wall braces offer a high-tech yet straightforward solution. These steel beams are anchored to the basement floor and the floor joists above, offering adjustable, long-term stabilization. The Intellibrace system is particularly useful in limited access areas and can be adjusted over time to potentially straighten the wall.

Wall Anchors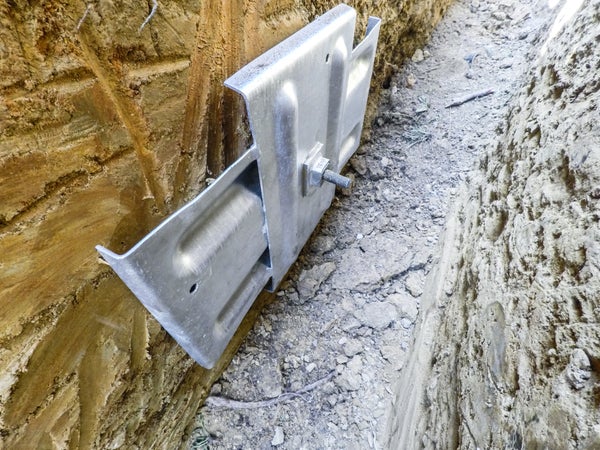 Wall anchors are a robust solution for stabilizing walls that are bowing, tilting, or showing other signs of structural issues. Anchors are installed outside in the ground, away from the home in virgin soil. They are connected to steel plates affixed to the interior basement walls. The system not only halts the inward movement but, over time, has the potential to move walls back to their original position. This method is ideal for severe structural concerns and offers a lasting solution.
Carbon Fiber Straps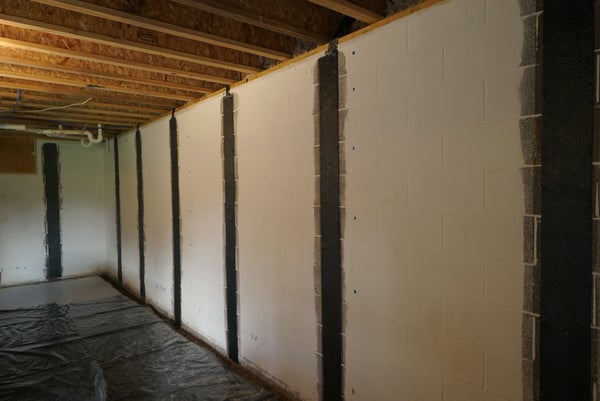 For less severe but still concerning cracks, carbon fiber straps offer an efficient and minimalistic solution. These straps are epoxied to the wall surface, providing strength that counteracts the forces trying to pull the wall inward. Carbon fiber straps are best suited for walls with minor cracking and bowing issues.
Since water is the nemesis of a healthy basement. We often include supplementary waterproofing measures like interior drainage, sump pumps, basement dehumidifiers, and even gutters.
The Risks of Delaying Repairs
Procrastination may be human nature, but when it comes to cracks in your basement walls, delaying action can be a costly and potentially dangerous mistake.
A small crack today can evolve into a large, compromising crack tomorrow, escalating both the complexity and cost of repairs.
An untreated crack serves as an open invitation for water infiltration, setting the stage for issues ranging from flooding and mold to even electrical hazards. The longer you wait, the more you risk compromising not only your home's structural integrity but also its market value and the well-being of your family.
Fixing basement wall cracks as soon as they appear ensures your home remains a safe, solid, and valuable asset.
Contact FRS for Expert Crack Repairs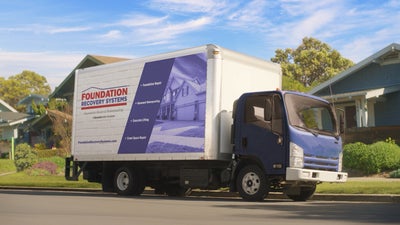 When it comes to securing the structural integrity of your home, experience is non-negotiable.
FRS brings to the table more than three decades of specialized expertise in repairing basement wall cracks across Missouri, Kansas, Illinois, Arkansas, and Iowa.
Our longevity in the field equips us with the knowledge and skill set to tackle even the most challenging repair jobs. But don't just take our word for it—our website boasts thousands of positive reviews from satisfied homeowners who can attest to the quality of our work.
At FRS, we prioritize you, the customer, by offering tried-and-true repair solutions coupled with exceptional customer service. With our focus on achieving long-lasting results and fostering customer satisfaction, it's no wonder FRS is the go-to choice for so many homeowners in need of basement wall crack repairs.
Don't wait; contact us today for a free inspection.
FAQs
Minor cracks are usually less than 1/8 inch wide and don't show any signs of structural problems. They are often vertical and do not extend the full length or height of the wall. Major cracks, on the other hand, are generally wider, horizontal or diagonal, and could span significant portions of the wall. They may be accompanied by other signs of structural damage, such as wall bowing or uneven floors.
Yes, cracks in the basement wall can affect your home's overall structural integrity, leading to problems like uneven floors, sticking doors and windows, and even cracks in upper-level walls.
Signs to watch for include damp or musty odors, increased humidity levels in the home, or unexplained water damage in adjacent areas like carpets or drywall. Over time, untreated water infiltration can also lead to mold growth and even structural damage.
Publish Date:
Last Modified Date:
Explore more problem signs