AquaStop™ FreezeGuard™
Basements are susceptible to water damage throughout the year, with the winter months bringing their unique set of challenges. To efficiently remove water, the sump pump in your home requires clear and unobstructed lines. Frozen lines can cause major issues and lead to a flooded basement.
There is a solution. With Foundation Recovery Systems' AquaStop™ FreezeGuard™, you can keep your basement dry year-round. This attachment is part of our comprehensive basement waterproofing solution, aiming to keep your space dry during the icy winter months.
Learn how AquaStop™ FreezeGuard™ works, its multiple benefits, and why it's crucial to protect your basement against the harsh winter conditions.
What is the AquaStop™ FreezeGuard™?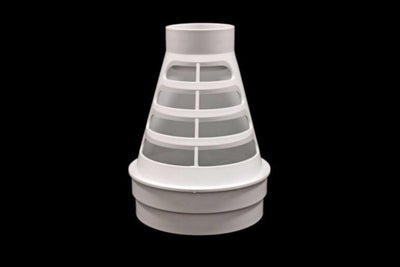 AquaStop™ FreezeGuard™, provided by Foundation Recovery Systems, connects to the external discharge line of your sump pump system just outside your home.
It acts as an emergency escape route for water, preventing backflow problems, resulting in sump pump failure and a flooded basement. If your discharge line freezes, water is diverted to the FreezeGuard™ where it is released without causing damage.
As part of our whole-home waterproofing system, this advanced technology, when combined with our other waterproofing solutions, offers robust protection against water damage.
Signs You Need the FreezeGuard™ Attachment
The FreezeGuard™ attachment becomes a necessity when your basement exhibits symptoms like:
Ignoring these issues can have serious repercussions, affecting your home's structural stability and your family's health. If you see these warning signs, contact Foundation Recovery Systems for a free inspection and repair quote.
Is an Anti-Freeze Exterior Sump Pump Discharge Line Attachment Necessary?
In areas where freezing of discharge lines is common, an anti-freeze discharge line attachment like AquaStop™ FreezeGuard™ is vital.
Without it, a basement flood during winter is possible, causing mold growth, structural damage, and loss of valuables.
Secure your home with the FreezeGuard™ attachment now for peace of mind.
What Are the Benefits of the AquaStop™ FreezeGuard™?
AquaStop™ FreezeGuard™ brings forth numerous advantages:
Stops Pipe Freezing: It assures uninterrupted water flow and prevents backflow when the line freezes, thus sustaining sump pump efficiency and a dry basement all winter.
Protects Your Foundation: It protects your foundation against potential water damage by preventing basement flooding due to frozen discharge lines.
Providing Peace of Mind: With FreezeGuard™, worries about flooded discharge lines are a thing of the past.
Our team, focusing on quality, utilizes premium materials to tailor the FreezeGuard™, guaranteeing professional and accurate installation.
How the AquaStop™ FreezeGuard™ Attachment Works
The FreezeGuard™ attachment is one part of our complete basement waterproofing system. Here's what the installation process looks like:
Thorough inspection by an FRS expert
Attach a vapor barrier to the basement walls
Install an interior drainage system in the basement's sub-floor
Place a sump pump in the lowest part of the basement
Connect the drains to the sump pump
Connect internal discharge pipes to the sump pump
Direct pipes out through the basement wall
Add exterior sump pump discharge pipes
Attach the FreezeGuard™ to the exterior pipes
Extend and bury the discharge pipes in the ground, draining to a special outlet
Test the sump pump and FreezeGuard™ attachment
Install an energy-efficient basement dehumidifier
As experts in basement waterproofing, we ensure minimal disruption to landscaping or underground utilities. Our FreezeGuard™ installation process is engineered for long-term performance, ensuring quality and effectiveness.
Why Our AquaStop™ FreezeGuard™ Attachment is the Best Choice for Your Home
Our superior anti-freeze discharge line attachment excels due to its:
Remarkable design and build quality
Performance in severe cold environments
Streamlined installation procedure
Assured warranty coverage
Incorporation in our regular maintenance service plan
Contact Foundation Recovery Systems for Basement Waterproofing Solutions Today!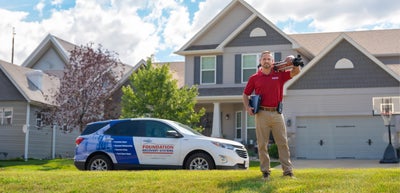 Dealing with basement flooding is stressful, particularly in the winter months. Safeguard your home with AquaStop™ FreezeGuard™ from Foundation Recovery Systems.
Contact us for a free inspection and estimate. Our waterproofing specialists will assess your home and propose customized solutions, including the FreezeGuard™ attachment. Secure the well-being and comfort of your home by investing today.
FAQs
The FreezeGuard™ is designed to work in conjunction with other basement waterproofing solutions like sump pumps and internal drainage. The overall cost depends on the extent of damage and the repairs needed, which are determined during a free inspection. Reach out to Foundation Recovery Systems for more details. 
The FreezeGuard™ is skillfully installed as part of our extensive basement waterproofing service. The duration depends on the specific conditions of your basement and the additional solutions implemented along with the attachment. 
Our meticulously devised installation methods aim to preserve the integrity of your lawn and adjacent plant life. 
Publish Date:
Last Modified Date: