WallSeal™ Basement Wall Vapor Barrier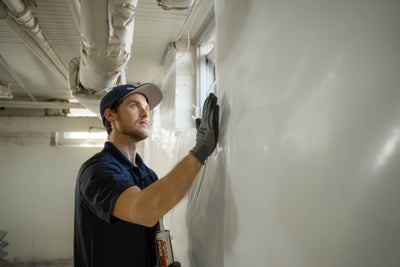 Your basement doesn't have to be damp and musty. In fact, dampness can present significant hazards to your property and loved ones.
The AquaStop WallSeal™ Basement Wall Vapor Barrier, combined with our cutting-edge waterproofing techniques, provides unparalleled moisture defense for your basement.
Foundation Recovery Systems, a pioneer in basement waterproofing, has more than three decades of experience and installs only high-quality vapor barriers to protect your home from potential water-related problems.
What is the AquaStop WallSeal™ Vapor Barrier?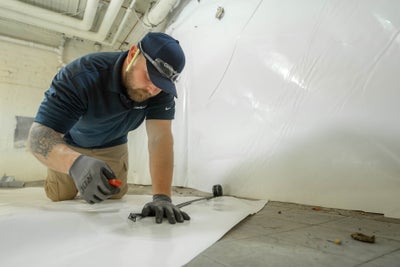 The AquaStop WallSeal™ Vapor Barrier is a robust 12-mil thick sheet designed to prevent moisture from passing through basement walls. It is fastened securely to the walls, directing any water into our advanced AquaStop BasementGutter™ internal drainage system, offering an immediate solution for wet walls.
The integration of a vapor barrier with additional waterproofing technologies like a sump pump and dehumidifier reinforces your property and enhances its value.
Indicators That Your Basement Needs a Vapor Barrier
It becomes crucial to have a vapor barrier when you notice:
Damp walls
High humidity levels
Overlooking these signals and delaying repair can lead to severe complications and health risks. Foundation Recovery Systems provides free inspections and personalized solutions for such basement problems.
Is a Basement Wall Vapor Barrier Necessary?
Often, yes. A basement wall vapor barrier is a crucial component of an effective basement waterproofing plan. Moisture may penetrate even seemingly solid walls due to the porous characteristics of concrete, leading to unnoticed water damage and increasing the complexity and cost of future repairs.
Address this concern ahead of time by installing the AquaStop WallSeal™ Vapor Barrier, a crucial component of our whole-home approach to maintaining a dry and healthy residence.
What Are the Benefits of the AquaStop WallSeal™ Vapor Barrier?
Our durable vapor barrier offers several advantages, including:
Enduring Defense: Crafted from premium materials, our barrier assures long-lasting protection.
Healthy Living: It reduces humidity and prevents mold, promising a healthier habitat.
Elimination of Musty Odors: WallSeal™ blocks moisture, stopping unpleasant odors, particularly when used with a dehumidifier.
Property Value Enhancement: A meticulously maintained dry basement increases the market value of your property.
To maximize the benefits of the AquaStop WallSeal™ vapor barrier, proper installation is vital. Foundation Recovery Systems' certified experts utilize proprietary products and processes to guarantee a dry, healthy basement.
How the AquaStop WallSeal™ Vapor Barrier Works
Once a qualified inspector from Foundation Recovery Systems determines the AquaStop WallSeal™ Vapor Barrier is necessary, it is incorporated into our extensive waterproofing solutions.
The process includes:
Preparatory wall cleansing
Secure affixing of AquaStop WallSeal™ sheets
Installation of internal drainage and other components
Strategical placement of the sump pump
Connecting drainage to the sump pump
Installation of basement dehumidifier
Here is how the complete system works:
If water leaks in through basement walls, it automatically runs behind WallSeal™.
WallSeal™ directs leaking water to the interior drainage system.
Water in the drains flows into the sump pump.
The sump pump removes water collected in its basin.
The dehumidifier removes any remaining basement moisture.
When Foundation Recovery System installs these essential water management components, you receive a professional installation you can trust.
Why Our Basement Wall Vapor Barrier is the Best Choice for Your Home
AquaStop WallSeal™ Vapor Barrier excels due to its:
Superior 20-mil thickness
Resistant properties against mold and water
Permanent adherence to walls
Compatibility with our comprehensive waterproofing strategy
Long-term warranty
Option for annual maintenance plans
Compared to options available in retail stores, AquaStop WallSeal™, a proprietary product of FRS, offers unrivaled efficacy.
Contact Foundation Recovery Systems for Basement Wall Vapor Barrier Solutions Today!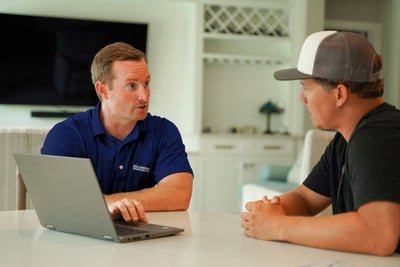 Don't settle for a damp basement. Enhance your home with our complete basement waterproofing services. Contact us for a free, no-commitment inspection and estimate.
Over the three decades we've been in business, we've seen a thing or two. Our experience makes us the preferred choice for basement solutions and unmatched customer service. See how our exclusive products can revitalize your home's integrity and comfort.
FAQs
Absolutely, it aims to create a healthier living environment by reducing moisture and preventing mold formation. 
Generally, our team can complete the installation in one to two days, depending on the specific conditions of the basement and any additional interventions required. A timeline and installation date will be provided upon selecting Foundation Recovery Systems for your waterproofing needs. 
While designed to be a lasting solution, we recommend yearly maintenance for optimal performance. Our team performs maintenance inspections for ultimate peace of mind.
Publish Date:
Last Modified Date: