Wet Basement Walls
While it's not unusual for homeowners to grapple with wet basement walls, it is still a cause for concern. Damp walls signal potential moisture problems that could jeopardize the structural stability of the house and the well-being of your family. Knowing why basement walls get wet and addressing these issues promptly is important.
Foundation Recovery Systems employs certified inspectors specializing in identifying and repairing wet basement walls.
Boasting more than three decades of industry experience and a reputation for dependable basement waterproofing services, we are dedicated to transforming your damp basement into a dry, healthy living environment.
What Are Wet Basement Walls?  
Wet basement walls occur when water or moisture penetrates the concrete walls of your basement. You'll generally notice more moisture in the middle and lower sections of the walls.
Failure to address these damp walls can result in several problems, including:
Increased humidity levels
Decay of wooden structures and supports
Infestations of insects
Damage to personal belongings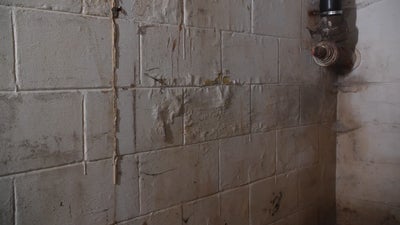 Ignoring wet basement walls can lead to serious repercussions for the overall health and value of your property. Instead repair wet basement walls as soon as they are noticed to protect the health of your home and keep your basement dry.
What Causes Wet Basement Walls?  
Several reasons could contribute to the development of wet basement walls, including:
Rain and Melting Snow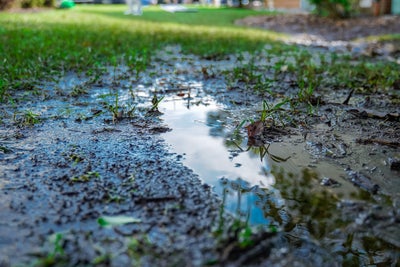 The varying weather conditions in our region, characterized by significant rainfall and snowfall, can lead to excessive water around the foundation. This results in increased hydrostatic pressure, which heightens the risk of moisture intrusion into basement walls.
Inadequate Drainage Systems  
When essential water management systems like gutters and downspouts are compromised or clogged, it can lead to water accumulating around your home, exposing your basement walls to dampness.
Faulty Footing Drains  
Over time, footing drains installed around your basement can become ineffective due to soil compaction or sediment buildup, contributing to poor drainage and subsequently, to wet basement walls.
Hydrostatic Pressure and Wall Cracks 
With the rise in ground moisture, hydrostatic pressure against foundation walls increases, causing cracks and bowing over time, becoming water entry points.
Concrete Wall Porosity 
Despite concrete's strength, its inherent porosity allows water to seep through microscopic spaces, causing moisture problems in the basement.
Addressing the root causes is pivotal, and Foundation Recovery Systems is here to assist.
Can You Fix Wet Basement Walls?  
Yes, wet basement walls can be repaired. While DIY remedies like wall sealing paints promise results, they don't address the root issues and you're back at square one shortly.
Foundation Recovery Systems provides custom basement waterproofing solutions to meet the needs of your unique home.
How to Fix Wet Basement Walls  
Our installation process might vary based on your home, but a typical process includes:
We go beyond superficial fixes, offering solutions that address the core of the issue for lasting results. Our solutions come with a long-term, transferable warranty.
Why Address Wet Basement Walls Now 
Addressing wet basement walls promptly can:
Enhance structural solidity by stopping moisture spread and decay.
Prevent escalated costs by avoiding more severe damage.
Mitigate health risks by curtailing mold and mildew.
Reduce pest intrusion by maintaining a dry basement.
Boost property value by ensuring a dry and stable basement.
Trust Foundation Recovery Systems for custom, effective solutions that assure reliability and durability, accompanied by extensive, transferable warranties.
Reach Out to Foundation Recovery Systems for Reliable Basement Waterproofing Solutions!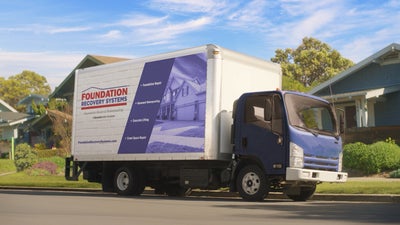 Don't let minor problems escalate into major complications. Resolve wet basement wall issues swiftly with Foundation Recovery Systems.  
With our proven expertise spanning more than 30 years, we deliver long-lasting, reliable basement moisture solutions for any issues homeowners may be facing.
Reach out to Foundation Recovery Systems today for a free, no-obligation inspection. 
FAQs
Yes, prolonged exposure to moisture can weaken the structural components of the house, including foundation walls and support beams, potentially leading to serious damage.  
The moisture in wet basement walls provides an ideal environment for mold spores to grow and multiply, which can lead to mold infestations.  
A dehumidifier can help reduce humidity and minor condensation on the walls but will not resolve underlying issues causing the wetness, such as leaks or poor drainage. 
Publish Date:
Last Modified Date:
Explore more problem signs