Basement Mold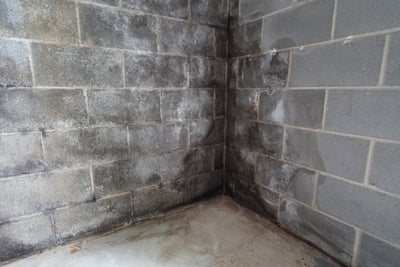 Basement mold is an issue many homeowners often overlook, but its consequences can be substantial.
Mold not only compromises the quality of indoor air, potentially causing health risks, but it also endangers the structural integrity of your home.
At Foundation Recovery Systems, we specialize in advanced basement waterproofing services that effectively control and stop basement mold growth. With our high-quality products and expert installation methods, we offer long-term solutions for a more secure, healthy home.
Continue reading to understand the formation of mold, its health implications, and how our custom water management plans can keep it in check. 
What Is Basement Mold? 
Mold in your basement is a type of fungus that thrives in damp, dark areas. It primarily feeds on organic material such as wood, paper-based items like cardboard, and even certain insulations.
Mold can take various forms and colors—ranging from black, green, and white to gray—and is often accompanied by a unique, musty smell. 
Most common types of basement mold are:
Aspergillus
Penicillium
Cladosporium
Alternaria
Although some molds are benign, toxic types like black mold can trigger allergies and exacerbate breathing problems.
If you detect mold, it's a clear warning sign of excessive moisture, which, if not addressed, can jeopardize the structural elements of your basement.
Attempting to treat mold with DIY methods usually results in failure, as it does not resolve the root cause of the issue. A professional assessment and targeted treatment are crucial for the effective removal of mold.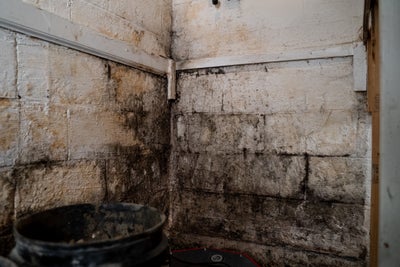 What Causes Basement Mold? 
The primary driver for mold in basements is high moisture levels.
For mold to survive, it requires:
Organic material for food
Water
Air
Without these three things mold can't thrive. However, the following factors also contribute to creating an environment conducive to mold growth:
Poor air flow
Leaks and damp areas
Leaky plumbing
Interior humidity levels above 55%
Even everyday household tasks such as laundry or cooking can raise humidity levels, worsening the problem. 
Can You Fix Basement Mold? 
Yes, it's possible to get rid of basement mold, but it requires a whole-home approach.
Simply cleaning the mold with household cleaning agents won't suffice; it doesn't tackle the root issue and could even pose health risks.
If you find mold, it's essential to consult a mold remediation specialist immediately.
For lasting prevention, professional waterproofing is vital to manage the water and moisture issues effectively in your basement.
How to Fix Basement Mold: The Foundation Recovery Systems Strategy 
The first course of action in managing basement mold is professional mold removal. Then, it's crucial to focus on moisture control.
Here's how Foundation Recovery Systems helps you manage moisture:
Comprehensive Evaluations: Our experts inspect your home to pinpoint the root causes and propose custom repair strategies.
Crack and Gap Repairs: We repair leaks by fixing cracks in walls and floors, and employ the ideal basement waterproofing or foundation repair methods to prevent future cracking.
Advanced Drainage: Our modern perimeter drainage systems catch and channel away any infiltrating water.
Sump Pump Systems: We use heavy-duty sump pumps to remove gathered water.
Vapor Barrier Applications: We install high-grade vapor barriers to prevent moisture intrusion through basement walls. 
Humidity Management: With energy-efficient dehumidifiers, we maintain relative humidity levels below 55% to prevent mold and improve air quality.
Routine Maintenance: We offer yearly maintenance checks to ensure the ongoing efficacy and durability of our solutions.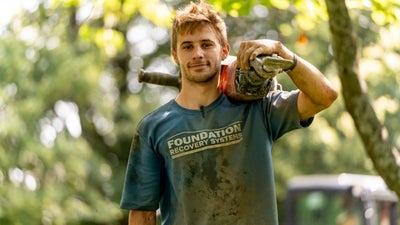 At Foundation Recovery Systems, our specialized product line-up is engineered for every step of the process. Custom-fit to your home's specific needs, our solutions outperform generic alternatives in both efficacy and longevity. 
Why Address Basement Mold Now 
Postponing mold treatment can result in:
Quick Spreading: Mold can proliferate within 24-48 hours if moisture is available.
Health Hazards: Ignored mold can worsen conditions like asthma and allergies.
Structural Damage: Continuous moisture and mold can weaken your home's structure.
Lingering Odors: Musty scents are difficult to eliminate.
Lowered Home Value: Mold presence can notably reduce your home's resale value.
To tackle these challenges, Foundation Recovery Systems and our uniquely engineered solutions are indispensable. Our products safeguard your home's structural integrity while ensuring it stays dry, offering benefits that surpass generic solutions. 
Contact Foundation Recovery Systems for Dependable Basement Moisture Solutions 
Don't risk the wellbeing of your home. Reach out to Foundation Recovery Systems today to definitively solve your basement mold and moisture concerns.
With more than 30 years of industry experience, Foundation Recovery Systems' certified professionals can evaluate your situation, identify moisture problems, and recommend a permanent mold elimination strategy.
Schedule your free, obligation-free inspection now. 
FAQs
Not all types of basement mold are toxic, but some, like black mold (Stachybotrys chartarum), can produce harmful toxins.
Maintaining low humidity levels, improving ventilation, sealing water leaks, and using dehumidifiers can help prevent mold growth.
For large infestations, if the mold returns after DIY removal, or if toxic mold is suspected, it's best to consult professionals for remediation.
Publish Date:
Last Modified Date:
Explore more problem signs