Basement Dehumidifier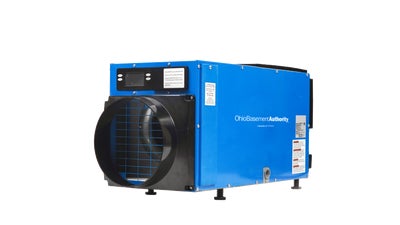 Dealing with a damp, musty, and humid basement is more than an inconvenience; it's a necessity to safeguard the structure of your home and the well-being of its occupants. Excess moisture can compromise the structural stability of the home, pose potential health risks, and diminish the overall comfort and value of your property.
Foundation Recovery Systems' AquaStop™ Basement Air System is a high-efficiency dehumidifier and filtration system designed to remove humidity and establish a dry, comfortable environment in your basement.
Keep reading to learn how you can benefit from this cutting-edge unit.
What is the AquaStop™ Basement Dehumidifier? 
AquaStop™ Basement Air System is a cutting-edge dehumidification solution designed to combat basement humidity effectively.
It has the capability to remove up to 100 pints of water from the air each day and circulates over 300 cubic feet of dry air every minute, distinguishing it from other models on the market.
Its design is streamlined and compact, providing superior performance without the cumbersome size of traditional dehumidifiers. It forms a crucial part of our whole-home approach to basement waterproofing and humidity control, ensuring a dry, healthy, and pleasant living environment.
Signs a Basement Dehumidifier is Needed 
It's essential to consider a dehumidification system if you encounter the following issues:
Increased levels of basement humidity
Moist basement walls
Contact Foundation Recovery Systems at the first sign of these issues for quick repairs. Immediate response can help avoid prolonged damage and extra costs.
Is a Basement Dehumidifier Necessary? 
Yes. If you have high humidity, having a basement dehumidifier is an essential, not a luxury.
It's vital to stop mold growth and structural damage and it helps in maintaining a healthy.
Regular dehumidifiers often aren't sufficient for larger spaces and need frequent monitoring. Our cutting-edge dehumidifier not only adeptly manages moisture but also functions autonomously, removing any need for regular interventions.
Our dehumidifier dynamically pulls moisture from the air, creating an all-around more comfortable living environment.
What Are the Benefits of the AquaStop™ Basement Air System? 
The AquaStop™ Air System offers numerous advantages, including:
High Capacity: Can reduce moisture levels rapidly with its industry-leading 100 pint-per-day capacity.
Energy-Efficient: Operates more economically compared to alternative models, making it an environmentally friendly option.
Mold Prevention: Maintains relative humidity below 60%, stopping mold growth.
Odor Reduction: By managing moisture levels, it eradicates foul, stagnant smells, promoting cleaner air in your basement.
Whole-Home Benefits: The reduction in humidity benefits the entire house, preventing elevated moisture in upper levels.
Our expertly installed dehumidifier and innovative products offer the best solution for your home.
How the AquaStop™ Basement Air System Works 
Our advanced dehumidification system is incorporated as part of our whole-home solution.
Here's what our certified inspectors might recommend:
Inspection of the basement and discussion of dehumidification needs
Application of a vapor barrier to basement walls
Interior drainage system installation
Placement of a sump pump at the lowest point in the basement
Connecting the interior drain to the sump pump
Optimal placement of the dehumidifier to enhance air flow
Connecting the dehumidifier to the drainage system or a condensate hose for effective water removal
Setting and programming of digital controls
Testing to ensure top-notch moisture removal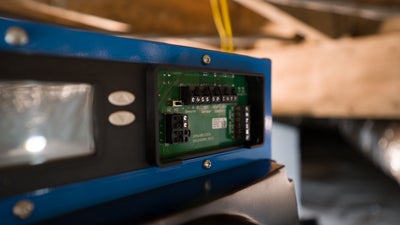 Foundation Recovery Systems technicians meticulously install the AquaStop™ Basement Air System, tailoring our methods and products to your home's specific needs.
Why Choose Our Basement Dehumidifier? 
The AquaStop™ Basement Air System, a professional-grade dehumidifier, stands out for the following reasons:
High Efficiency: Can remove up to 100 pints a day
Self-Draining: Offers automatic drainage, eliminating the need for manual emptying
Efficacy: Circulates more than 300 cubic feet of dry air every minute
Reliability: Holds ENERGY STAR certification
Specialized Design: Specifically developed for basements
Compact: Offers space efficiency while maintaining high performance
Durability: Backed by our warranty and annual maintenance plans
Contact Foundation Recovery Systems for Basement Dehumidification Solutions Today!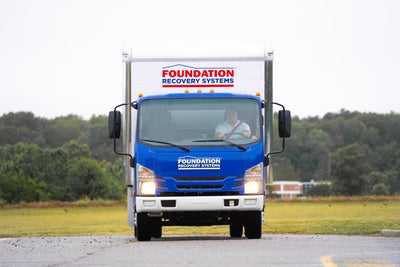 Transform your moist and mold-prone basement into a secure and healthy space with our advanced dehumidification solutions.
For more than 30 years, homeowners in Missouri and parts of Kansas, Illinois, Arkansas, and Iowa have relied on our commitment to quality and customer-centered solutions to create healthier living environments.
Experience the difference with Foundation Recovery Systems. Contact us now for a free inspection and estimate.
FAQs
Absolutely, it is engineered to function independently, but integration with certain HVAC systems can be achieved using a ducting kit. Both options reduce humidity and stop mold growth. 
Typically, installation is completed within a day, but it can vary depending on the condition of the basement and any additional required repairs. A more accurate timeline can be provided during a free inspection. 
Yes, we recommend an annual maintenance plan to ensure the system operates at its best, which includes inspections, cleanings, and filter replacements.
Publish Date:
Last Modified Date: