8 Common Causes of Water in Your Basement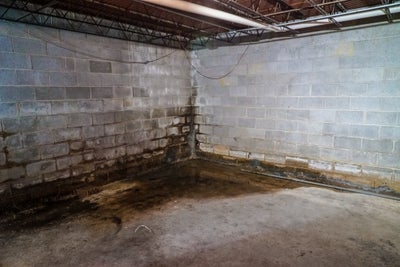 A common challenge that homeowners face is water in their basements. Not only is a wet basement a pain to clean up, but it can also ruin other parts of the room. It can damage the walls in your basement, leave stains on your floors, or even cause mold to grow if left untreated.
Understanding the causes behind this problem is crucial to finding an effective solution.
At Foundation Recovery Systems, we've been helping homeowners keep their basements dry and odor-free, protecting the air quality in their home and making their basements a livable space. Not only do we fix the issue, but we also educate you throughout the entire process so you know exactly what's happening.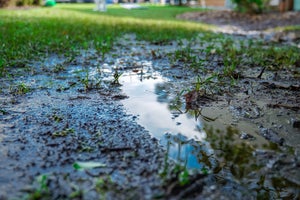 1- Poor Exterior Drainage
One of the primary causes of a wet basement is poor exterior drainage. When rainwater or melting snow is not effectively directed away from the foundation, it can seep into the basement. This may occur due to improperly installed or damaged gutters and downspouts, as well as the absence of proper grading around the foundation. Foundation Recovery Systems can address this issue by implementing effective drainage solutions that prevent water from accumulating near the foundation and entering your home.
2- Cracks in Foundation Walls or Floors
Cracks in the foundation walls or floors provide an entry point for water to infiltrate the basement. These cracks may develop over time due to hydrostatic pressure, shifting soil, or the clay bowl effect. Foundation Recovery Systems offers professional foundation repair services to repair cracked floors and walls. While simple repairs may be used for small cracks, more severe wall cracks often require stronger wall repair solutions, like Carbon Fiber Wall Repair strips, IntelliBrace™ I-Beam Wall Repair Systems, or Basement Wall Anchors.
3- Inadequate Basement Waterproofing
Many basements lack proper waterproofing measures, making them susceptible to water intrusion. Insufficient or outdated waterproofing systems can fail to withstand hydrostatic pressure or prevent moisture from seeping in. Foundation Recovery Systems provides a comprehensive basement waterproofing system that includes an interior perimeter drain, sump pump installation, wall vapor barrier, and dehumidifier. This combination effectively addresses water issues by collecting, redirecting, and controlling moisture in the basement.
5- Plumbing Leaks
Leaking pipes or plumbing fixtures within the basement can also contribute to a wet environment. Whether it's a faulty plumbing installation, pipe deterioration, or a burst pipe, these issues can lead to water accumulation. To prevent plumbing floods, there are a few different factors to look at that may need repair, like failing washing machine hoses, alarm system for sump pumps, or leaky water heater units.
6- Condensation
High humidity levels in the basement can result in condensation, leading to dampness and water-related problems. Foundation Recovery Systems offers dehumidification solutions to regulate moisture levels, control humidity, and discourage the growth of mold and mildew.
7- Hot Water Heater Flood
Water heater issues are one common reasons for household flooding. When they rupture or burst, several gallons of water can pour out into your home very quickly. Our BasementGutter™ Perimeter Drainage waterproofing systems is an easy installation and great way to prevent these types of floods.
8- Sump Pump Failure
A sump pumping system's sole purpose is to capture and safely discharge intruding water before it permeates past the perimeter of and damages your basement. If sump pump failure occurs, your basement is in danger of flooding.
Common reasons for sump pump failure include power outage, mechanical issues, or improper installation. Our sump pumps offer ultimate peace of mind. Our three pump system includes a battery backup sump pump. This unit ensures your basement will stay dry even during a power outage.
The Impact of a Leaking Foundation on Your Home's Value
There are a lot of myths surrounding foundation repair and its costs. The only way to get an accurate estimate is to have an expert do a full assessment.
While many factors go in to determining a repair cost, its safe to say it's much more expensive to repair a crack that you've let fester than it is to nip the problem in the bud.
Foundation cracks are more than just momentary expenses, though. Should you go to sell your home, you're going to need to disclose your house's history with foundation problems. If you choose to sell your home without fixing these problems yourself, you risk losing a lot of your home's market value.
Instead, spend money to waterproof your basement before listing your home on the market. While these repairs will cost you, you'll be able to list your home for its full value.
Safeguard Your Basement with Foundation Recovery Systems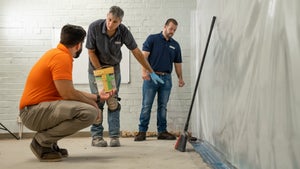 All of these waterproofing issues could lead to severe damage to your home. Take control of the situation and turn to the experts at Foundation Recovery Systems. With our specialized basement waterproofing solutions, we can effectively combat the common causes of water intrusion, providing you with a dry and safe living space.
Our team understands the unique challenges faced by homeowners in Missouri, as well as parts of Kansas, Illinois, Arkansas, and Iowa. We have been serving these areas for years, earning a reputation for our exceptional expertise in foundation repair and basement waterproofing.
Contact Foundation Recovery Systems today and schedule a free inspection with our experts. Together, we'll assess your situation, tailor a waterproofing solution to your home, and restore your basement to its dry and functional state.
What Causes Water in The Basement?
FAQ's
DIY basement repair may initially seem like an appealing and cost-effective option, but when it comes to addressing water issues, it's important to understand the complexity and potential risks involved. Basement waterproofing requires specialized knowledge, skills, and equipment that professionals like Foundation Recovery Systems possess. Improper installation or ineffective DIY solutions can exacerbate the problem and lead to more extensive and costly damage in the long run.
Water heaters can rupture or even explode if too much pressure builds up internally. An automatic shut-off valve can help you control the overall degree of pressure your water heater experiences. 
However, valves do not solve all your problems for you. It is possible for the damage to your water heater to be so extensive that the valve will only delay the inevitable. With that in mind, you'll want to reach out to the professionals in your area to either attend to the damage or to remove the water heater from your home entirely. 
Publish Date:
Last Modified Date: