7 Steps To Take After a Basement Flood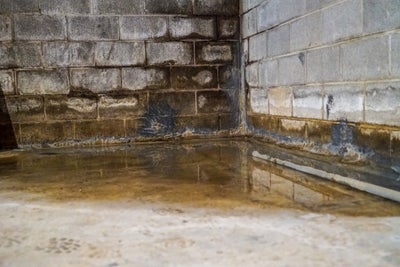 Basements are the most popular foundation type in our area. We use them for all sorts of things, from additional storage to hobby rooms and extra living space. However, just like anything else in the world, these lower-grade levels have their cons too. The main issue most homeowners with a basement will come across is flooding. 
For various reasons, water will come through substructure walls and floors, causing serious damage. From mold and mildew infestation to structural hazards, flooding is something we simply can't overlook.
So, what do you do when you discover water in your basement?
We'll walk you through the 7 most important steps to help you effectively respond to a basement flood and protect your home.
What to Do When You Discover a Leak
Step 1: Turn off Power to the Basement
As a safety precaution, immediately shut off the power. You can do this by finding the main breaker that controls electricity in your home. Don't assume it's safe, no matter how shallow the water might be. 
Step 2: Look for the Source of the Problem
Identify the source of the water leak to understand the root cause. It could be a burst pipe, foundation crack, or poor drainage. Locating the source will help you determine the appropriate course of action and necessary repairs.
Step 3: Contact a Waterproofing Expert
Reach out to a trusted waterproofing expert in the area. Foundation Recovery Systems, known for their expertise in basement waterproofing, offers comprehensive solutions tailored to your specific needs. Schedule the first possible appointment to make sure you act before it's too late. Also, call your insurance agency. 
Step 4: Remove Water (if possible)
If it's safe, and you're willing, start removing the standing water from your basement. Use a wet/dry vacuum or pumps to get rid of puddles. If you don't have any of the previous tools, simply use a mop and bucket.  Removing water quickly can prevent mold growth and help minimize further damage.
Step 5: Run a Dehumidifier
If you have a dehumidifier, you can bring it down into your basement to reduce excess moisture and prevent the growth of mold and mildew. A dehumidifier will help create a drier environment, promoting faster drying and preventing potential health hazards.
Step 6- Remove Personal Belongings to Dry
Carefully remove any personal belongings, furniture, and carpets from the affected area. Place them in a well-ventilated space to dry thoroughly. Salvaging items quickly can help minimize damage and prevent mold contamination. Throw away any damaged materials and inspect wood elements and drywall to see whether you'll need to replace them.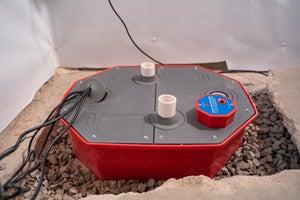 Step 7: Waterproof the Basement
To prevent future basement flooding, consider investing in professional basement waterproofing services. Foundation Recovery Systems offers a comprehensive approach, including the installation of an interior drainage system, a highly effective sump pump, wall vapor barrier, and an energy-efficient dehumidifier.
4 Preventative Actions to Avoid Flooding
One of the best ways to deal with floods is to stop them before they can occur. Here are 4 actions to avoid future water-related damage. 
1- Repair Foundation Cracks– We suggest you frequently inspect your foundation for any cracks and fractures that might allow water to get inside your basement. If you find any, contact professional help immediately. 
2- Check Sump Pumps- Improper use of sump pumps is another reason for basement floods. We should point out that it's illegal for these devices to pump the water into the sanitary sewer as such activity can cause floods and other hazards. Instead, they should direct the excess water into the surrounding lawn or a storm sewer system. Having a professional maintain your sump pump is the best way to ensure it will function properly when needed.
3- Maintain Gutters and Downspouts- Properly maintaining gutters and downspouts so they direct the rain away from your foundation and basement makes a big difference in keeping your basement dry. Clogged gutters allow water to flow over the top, dumping water directly next to your foundation. This is especially important for homeowners in Missouri with its continental climate and heavy rain seasons.
4- Maintain Good Yard Grading- If your home is sitting on a lower level than the rest of your property, water will flood toward the basement when there's excess rain in the area. Hence, it's essential to regrade the yard before construction to make sure such problems won't occur. Grading is dirty work, but it will pay off, as it will direct water in the ground away from your foundation and basement. 
FRS: The Waterproofing Experts
Discovering a basement flood can be a stressful situation, but by following these seven essential steps, you can effectively respond and minimize damage.
Foundation Recovery Systems, with their expertise in basement waterproofing and cutting-edge solutions, can effectively address your basement waterproofing needs. We offer reliable and long-lasting solution.
Don't delay; set up a free inspection with Foundation Recovery Systems today and safeguard your basement against future flooding.