Puddles Around Your Foundation
If your gutters and downspouts cause water to collect close to your foundation, your property might sustain substantial damage. FRS offers dependable options for keeping your house dry.
Schedule Free Inspection
When it rains, does your property resemble a lake?
Pools of water are common, especially given the frequently rainy climate in Moberly.
However, your home's structural integrity and safety may be in jeopardy if there are persistent puddles near the foundation.
The outside water management system of your home, which consists of gutters and downspouts, is a significant offender. The earth near your foundation may become oversaturated with water if any of these crucial components are compromised.
We'll explore how gutters and downspouts function, why water collects in puddles next to your foundation, the problems caused by this issue, and how to resolve them with the help of local professionals.
---
Why Gutters and Downspouts Matter
Gutters and downspouts play a huge part in the overall health, safety, and structural stability of your home.
How Gutters and Downspouts Are Installed
The process of installing your gutter and downspout systems is crucial, and usually follows these steps:
Just below your roof, gutters are hung horizontally on the facia board.
Downspouts are connected to the bottom of the gutters, typically in the corners, and continue vertically down the side of the house.
The downspouts' ends are either buried underground or left exposed.
Angled extensions can be attached to or placed underneath the downspout ends if they are left above ground.
How Gutters and Downspouts Function Together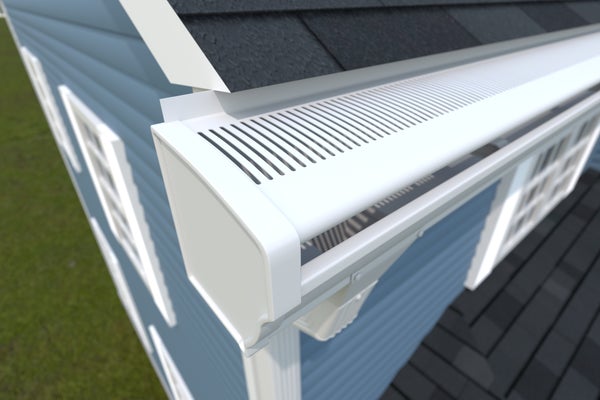 The above procedure must be followed so the systems can do their jobs. Working together, gutters and downspouts are designed to keep extra rainwater away from your foundation. Here's how they work:
The gutters collect rain and snowmelt.
This water is directed to the downspouts, which drain it at ground level.
Downspout extensions should channel water away from the foundation by at least 10 feet.
Gutter and Downspout Problems Causing Puddling Water
This system won't operate correctly if any component is damaged. If you spot the following gutter and downspout issues, they may result in water collecting near your foundation:
Clogs contain leaves, twigs, and debris
Gutters overflow
Gutters sag or are loose or unattached
Downspouts are dented or bent
Short, inadequate downspout extensions
Downspout extensions point toward the foundation
How Puddles Around Your Foundation Damage Your Home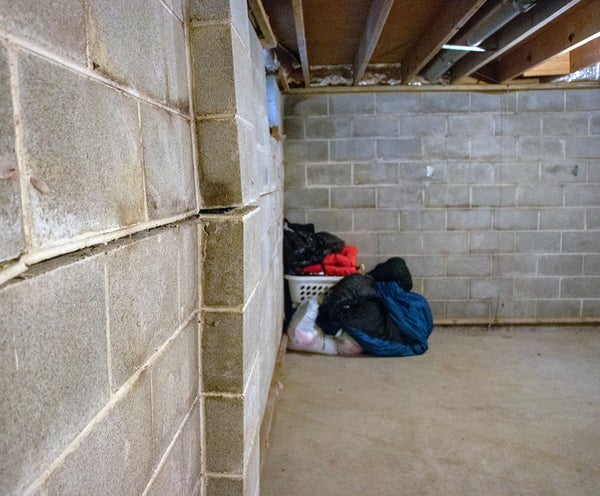 In areas like Moberly with expansive clay soil, excess water is a huge concern.
Here is what might happen if this water pools and oversaturates the soil next to and beneath the foundation of your home:
Hydrostatic pressure develops.
Walls crack and bow inward.
The foundation settles.
Doors and windows are difficult to open and close.
Floors become uneven.
Water leaks through basement or crawl space corners.
Mold and musty odors develop.
Professional Repairs Protect Your Home from Top to Bottom
Any water that collects near your foundation has the potential to result in serious damage, whether it's wet belongings and mold growth to wall cracks and a shifting foundation.
At Foundation Recovery Systems, we understand how Moberly's wet weather impacts your home and how to best protect it from the ground up and from top to bottom. Our whole-home solutions include basement or crawl space waterproofing measures, foundation repairs, and gutter systems.
We install AquaGuard Gutter Solutions, which include gutters, gutter guards, downspouts, and downspout extensions. Here are just some beneficial features that enable them to keep your home dry:
All-in-one seamless gutter design
Aluminum construction
Tailor-made to your home and assembled on-site
Slotted hood for increased water flow
Backsplash lip for backflow prevention
Wide-mouth outlet for quick drainage
Protected by extensive warranties and maintenance programs
Puddles Around Your Foundation
FAQs
If water from your downspouts has nowhere to go and collects in puddles next to your home, it's crucial to move this water as far away as possible.
You can add splash blocks at the ends of the downspouts, but the best way to tackle downspout runoff is to attach downspout extensions that carry the water at least 10 feet away from your home.
These extensions can be above-ground, but they are often unsightly tripping hazards. Burying the extensions in the ground is safer and more effective.
Soil erosion resulting from downspout drainage can be addressed the same way as runoff.
Here's what you can install for better downspout drainage to prevent soil erosion:
Splash blocks
Downspout extensions
Buried downspout extensions
Re-grade soil around your foundation
Coupled with gutters, downspouts keep excess rainwater away from your foundation.
Without downspouts, water will fall directly onto the soil next to your foundation. Saturated soil cannot properly support your foundation, so it will begin to move out of place.
You'll then notice problems like wall cracks, uneven floors, bowing walls, and other foundation issues.
Keep Puddles Away from Your Foundation with Professional Assistance
Puddles near your foundation might seem like a minor inconvenience, but they could be a significant issue.
Installing high-quality water management systems is crucial for protecting your house. These include gutters, downspouts, downspout extensions, and waterproofing solutions in your basement or crawl space.
For reliable repairs from trusted local experts, you can count on our team at Foundation Recovery Systems. We provide a range of long-lasting waterproofing options that may be customized to meet your home's particular repair needs.
For a free inspection and repair quote, get in touch with our knowledgeable staff if you see puddles around your foundation and are worried about your home's water management.
Publish Date:
Last Modified Date:
Explore more problem signs