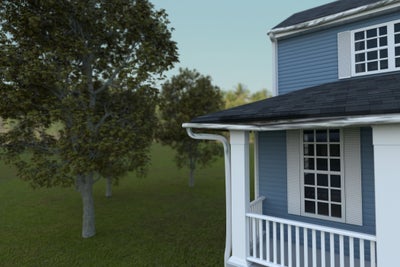 Did you know that gutter systems can trace their roots back to technology developed by the Indus Valley Civilization between 2500 BC – 1700 BC?
Even though these ancient drainage systems were mostly used for sewage and sanitation, their basic designs influenced gutter systems throughout history and still inform gutter systems today.
However, gutters are often taken for granted, and without a properly functioning system, your entire home could be damaged by water. At Foundation Recovery Systems, we want to help homeowners avoid unnecessary damage.
Let's explore signs that show your gutter system isn't working and why an effective gutter system is well worth it.
---
Signs You Have Ineffective Gutters
When your gutters aren't working, there are visible signs you can see on your property. Here are some of the most common ones you'll notice.
Foundation Cracks
One of the primary functions of your gutter system is to collect rainwater and prevent water buildup near the foundation. For that reason, foundation damage is more likely to occur when gutters aren't working properly.
Ineffective gutters allow rain and snowmelt to bombard your foundation with moisture. Over time, water breaks down materials used to construct your foundation, such as concrete or wood.
Additionally, water can pool next to your foundation and the growing water pressure pushes against foundation walls. This causes cracks to form along the base of your home.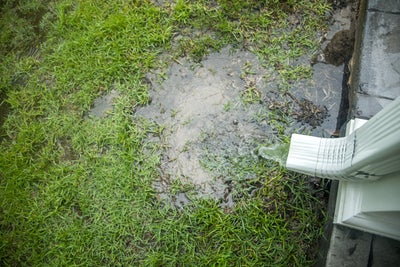 Soil Erosion
When water is allowed to overflow into your yard, it causes issues for the soil on your property. In many ways, water that flows without a gutter is like a miniature flood.
Soil particles will be displaced, and pockets of water will cause sections of your yard to become muddy and soft. Plus, too much water may cause vegetation to die.
Eventually, eroded soil becomes too weak to properly support your foundation so it sinks and settles into the ground. As a result, the structural integrity of your home is likely to become damaged.
Damage to Siding
If gutters don't work as intended, water will leak down your home's siding. Depending on the material it is made of, your home's siding can be destroyed by moisture.
Wood, brick, and cement siding can absorb moisture which leads to issues like discoloration or rotting. Other siding materials may even experience staining caused by rain and snow.
No matter what water issues your siding may face, if it's happening regularly, it's because your gutters and downspouts aren't guiding the water far enough from your home.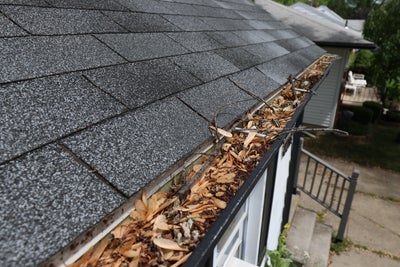 Clogged Gutters
A lot of water damage stems from clogged gutters. When debris, such as leaves, sticks, and pine needles, builds up in your gutters, water cannot flow properly and will overflow over the sides.
If you notice that your gutters often clog, then you're dealing with an inadequate gutter system. Without any intervention, water damage is only going to continue and the effects will get worse.
Why You Need Adequately Sized Gutters
No matter the actual size of your home, it needs to have gutters that are properly sized for its water management requirements.
For instance, if your gutter trough or downspout is too small, the entire system becomes susceptible to overflowing. This could happen because the volume of water coming off of your roof is simply too much to handle, or because small gutters become clogged with debris quickly.
When thinking about the size of your gutter system, take into consideration the amount of rain and snow our area receives. Obviously, more rainfall means your home will need more water management.
Our team at FRS currently offers gutter services to homeowners in Moberly, which receives an average of 42 inches of rain every year, just slightly more than the national average. Make sure your gutters are sized accordingly to avoid the problem signs we mentioned earlier.
H3: Tips to Keep Your Gutters Working Effectively
Clean gutters regularly to prevent clogs
Trim large trees and branches close to gutters
Inspect gutters every few months for damage like rust, joint separation, holes, or cracks
Direct downspouts to drain water at least 10 feet away from your home
Install premium, industry-leading gutter solutions, ensuring your gutters work their very best
Trust Local Pros for a Comprehensive Gutter Solution
Rather than worrying about missing, damaged, improperly functioning gutters or risking your safety to clean and repair these systems, leave the heavy lifting to gutter professionals. Our team at Foundation Recovery Systems is well-versed in gutter problems and solutions, including installing a system you'll never have to worry about.
We offer AquaGuard Gutter Solutions as a comprehensive exterior water management system. This includes gutters, gutter guards, downspouts, and downspout extensions.
Here's a peek at what makes our solutions unique:
Rust-resistant aluminum construction
All-in-one seamless gutter unit
Angled slats for more water capacity
Backsplash lip to prevent water rollback
Wide-mouth outlet for quick drainage
Removable end cap for easy cleaning
Attached with liquid adhesion
Protected by comprehensive warranty and maintenance plans
Inadequate Gutter System
FAQs
We don't recommend it.
Certain gutter projects such as unclogging the trough can be done without assistance, but it can be dangerous to climb atop a ladder and reach inside to grab whatever materials created the clog. Additionally, bigger issues like sagging, cracking, or disconnected joints should be handled by a professional. 
If mishandled, your gutter system could be pushed out of its proper slope or improperly reinstalled, leading to water damage around your home.  
Yes, but work with a professional to install new joints and seams, along with added protection like gutter guards.
These coverings keep debris out of your gutter trough and prevent gutter joints and seams from being put under too much stress.
While a DIY fix like using caulk, foam, or other sealants may seem easy, it's simply a surface-level fix that doesn't solve the real issues – an inadequate gutter system that is overwhelmed by water.
Over time, the caulked seam will likely break again so it's important to work with a professional team that can help you fix the actual problem.
Keep Your Gutters Clean and Functional
If you are a homeowner in Moberly who is experiencing gutter issues or foundation damage on your property, don't hesitate to contact us for a free inspection. The longer your home goes without a proper gutter system, the more damage your home can sustain.
Plus, if you have more questions about gutters or foundation services, continue exploring our website. Our team of experts is committed to solving the problems affecting your home.
At FRS, we pride ourselves on fast service, responsive customer care, and a quality job every time!